*This post may contain affiliate links, please see full disclosure for details.
A list of 10+ Toddler Activities you can put together quickly!
Are you looking for quick and easy hands-on toddler activities?! Well, you've come to the right place! These activities are made from objects I already had laying around my home! If you don't have something listed, improvise and use something similar!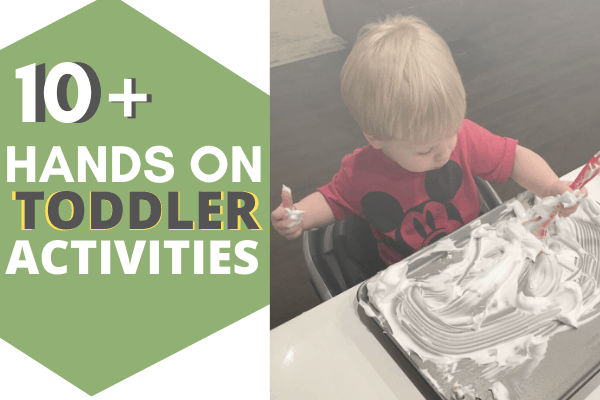 These activities don't require you to spend a bunch of money OR a lot of time putting them together! The toddler activities below should keep your little one busy for AT LEAST 25 minutes. Some of these my son will play with up to an hour!
10+ Toddler Activities in this Post: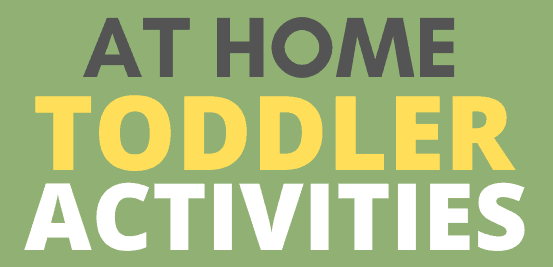 10+ Hands-on Toddler Activities
1)

Rice Bucket Measuring
We had a bunch of uncooked white rice in our cabinets, so I poured some in a Tupperware container. Then I put some measuring cups and a few cars in there!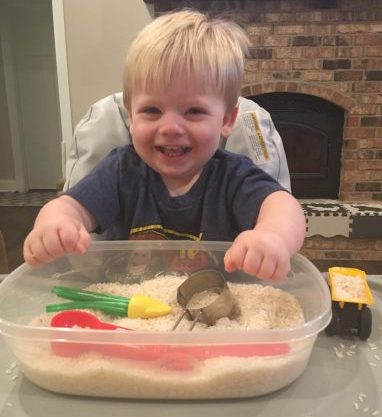 Tip: This can get messy so I would take it outside if you want to let your child have free reign with it. However, I usually have it inside. I put the container on top of a towel on the floor. So afterward I just pick up the towel and shake the rice off outside!
2)

Water Table Splashing
So the water table in the picture was a Christmas gift to my son from his grandparents! But there is NO NEED to go out and buy a water table specifically for this.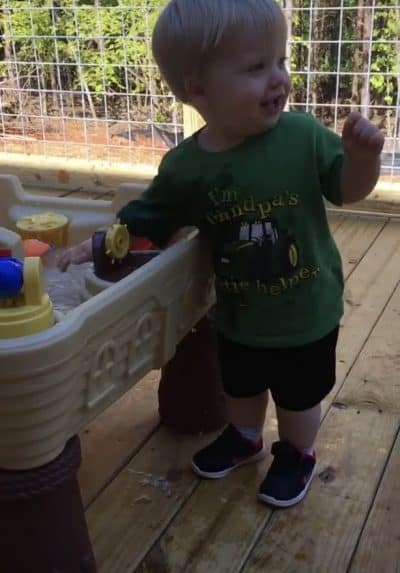 Little Tikes Anchors Away Pirate Ship – Amazon Exclusive
Just get a bucket, a Tupperware container, ANYTHING that will hold water…and take it outside! Throw some toys in there and let them have a blast splashing around!
But what about those cold or rainy days where you can't go outside? Well, activity Number 3 is my son's personal favorite lately!
3)

Kitchen Sink Playtime
My son loves, loves, LOVES water! So we have had to get creative during the winter! I fill up the kitchen sink with warm water and put some of his toys in there! I also throw in either a cup or smaller measuring cups. And add bubbles!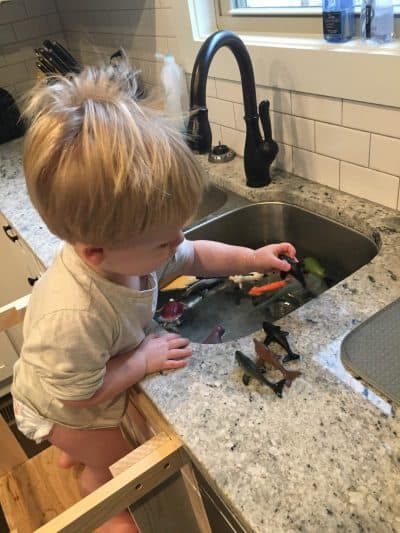 Tip: I put a towel on the floor to catch water and let him stand on a kitchen chair. To be cautious, I'm sitting next to him the whole time.
My husband just built him a kitchen helper so that I'm able to do things near him in the kitchen while he plays. I don't have to worry so much about him falling, but that isn't a must.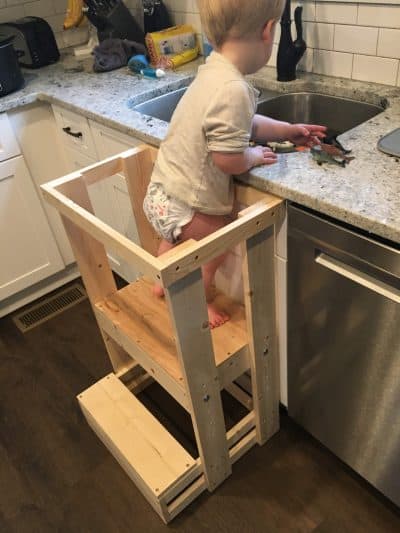 Another TIP: my son will play in the sink for at LEAST 40 minutes before he gets tired of it. But by that time, his shirt is soaked, the water is cold, and he's freezing.
SDADI Kids Kitchen Step Stool with Safety Rail – for Toddlers
So, I let him play in the water wearing just his diaper so he's not wearing wet clothes. I also plug up a small space heater and put it on the counter.
You need to make sure it's not too close to the water and the heat isn't too much for your little one. I usually stand between my son and the heater for a while to make sure it's at the right temperature!

4) Glow Stick Bath
When I say bath, I'm not bathing him…well unless he needs it. But this is usually just a water playtime break in the morning or afternoon! My son picks out the toys he wants to have in the tub with him and then I add several glow sticks!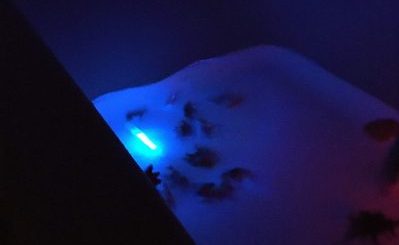 I turn off the lights and sit in there with him while he plays. He loves that the glow sticks light up the tub and he has a blast splashing around! It's a good break for me too. I get to just sit there and supervise while he's content.
5)

Sand Table Exploring
Remember that water table I mentioned in activity number 2? Well, when it's too cold for water, but still warm enough to play outside…I fill it with sand! He uses all the same water toys but in the sand!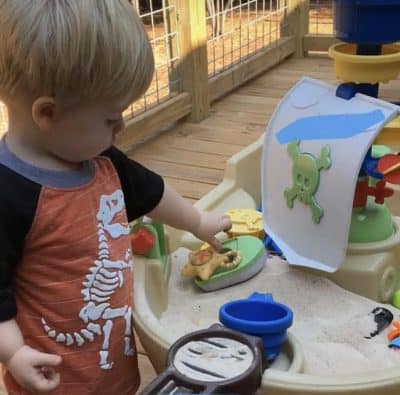 But again, don't go out and buy a water table. Use a bucket, Tupperware, whatever you have! Don't have any sand? Throw some dirt, leaves, rocks, whatever is outside in there! Give your toddler some cups and toys and let their imagination take over!
Tip: If you DO have a water table and are going to put sand in it, cover the place where the water drains out with tape so the sand doesn't slip inside it!
6)

Straw Threader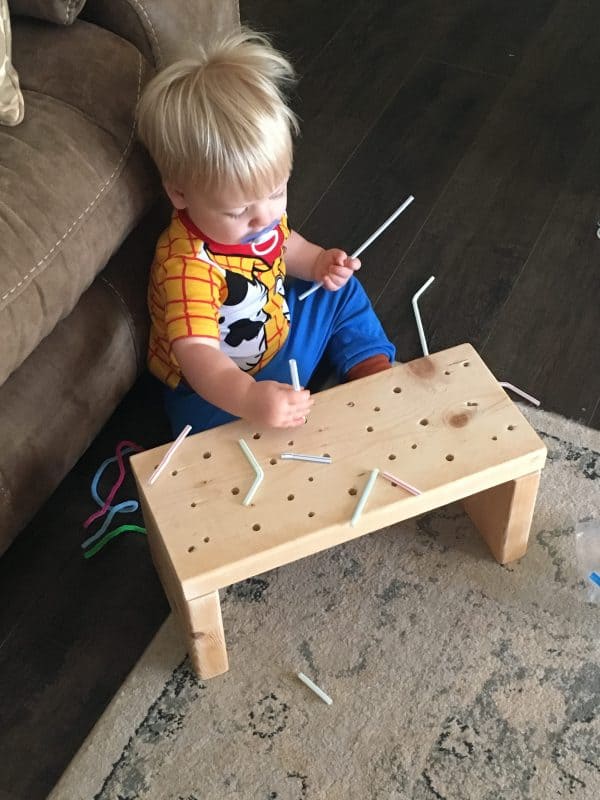 This is an activity that my husband created for my son, based on something he enjoyed doing at the park. I have a previous post I wrote about it here. It's really simple to make and great for developing fine motor skills and hand-eye coordination!
7)

Painter's Tape Peel Away
For this one, I had to dig through our "junk drawer" to find our blue painter's tape. My son already likes to stick stickers to things and then peel them off, and painter's tape is so much easier to peel than stickers! It also doesn't leave a sticky residue or take your paint off when removed!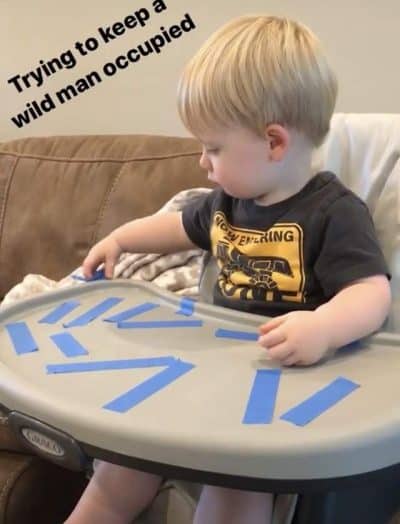 I stick this everywhere. If it's a warm day, I'll bring some out on the porch and stick it to the floor or our patio table. I take different size strips and smooth them down. I usually leave a little bit of an edge unstuck, to help him out a little bit, and make it easier to peel off. If we are inside, I'll stick the tape to our kitchen table, the couch, or even the floor. I've also seen people tape down objects like toy dinosaurs or army men for their kids to get "unstuck".
Bates- Painters Tape, 0.7 inch Paint Tape, 3 Pack of Painter
8)

Bubble Party
I'm pretty sure all kids love bubbles and dogs too. We had several of the little packs of bubbles and a couple of the bubble wands packed away in closets from kid's birthday parties, etc.

I started bringing them outside with us and my son and the dog have loved it. But you know what happened after awhile? I got out of breath and my arm got tired from constantly dipping the bubbles and holding it up to blow. So… for my son's 2nd birthday, I put a bubble machine on his wish list. We use this thing ALL. THE. TIME!
Kidzlane Bubble Machine
64-Ounce Bubble Solution

We've had to get another big container of the bubble liquid to pour into the machine because we use it so much. The best part, I don't have to do anything and therefore am not out of breath!
9)

Potting Soil Car Lot
I took my son to my aunt's house one day and we were playing outside. She had been gardening and had this big pot of potting soil outside. She gave him a shovel and he LOVED playing in it!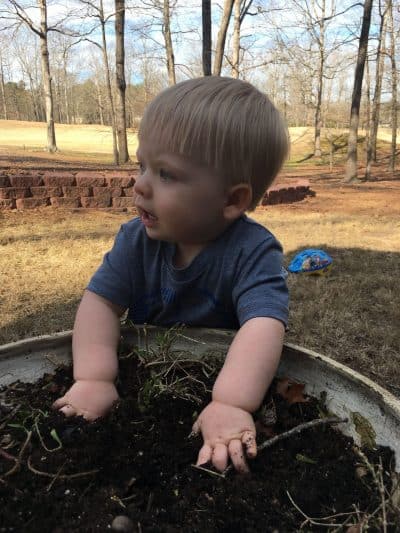 We threw in some toys and cars too! There was an entire playground in her yard but he wanted to stay and play in the soil the entire time! If you don't have potting soil, dirt works too!
If playing with cars and trucks in the dirt doesn't seem like something your child would enjoy, you could make an adorable fairy garden together in that space. Learn more info about how to create one here.
10)

Shaving Cream Tray
This idea came from a preschool teacher! She gave each of her students a metal pan and a large plastic spoon. Then she squirted shaving cream on each of their trays. She went around and hid objects in the shaving cream for them to find too. They had a blast!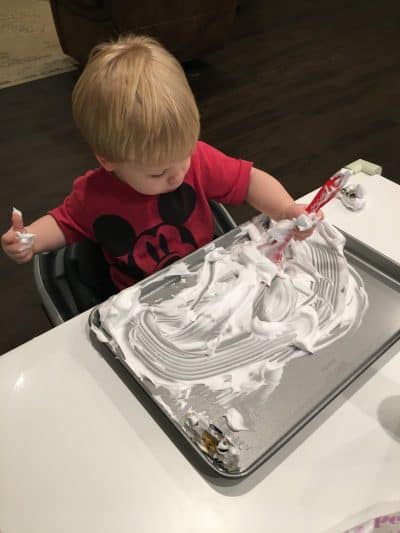 I tried it with my two year old and gave him a plastic sauce brush from the kitchen. He used the shaving cream to "paint" with it on the pan.
M KITCHEN WORLD Silicone Basting – BBQ, Pastry, and Oil Brush
However he is 2 and shaving cream looks a lot like whipped cream, so I had to sit right with him and correct him when he was insistent on trying a taste of the shaving cream. He didn't like the way the shaving cream stuck to his hands but enjoyed using the brush!
11)

Playdough Tracks
While I was cooking dinner one night, I pulled our kitchen helper stand up to the bar, and got out some playdough. I also put out a container of matchbox cars. I showed my son how you can flatten out the playdough and run over it with the cars. It will make tracks in the playdough.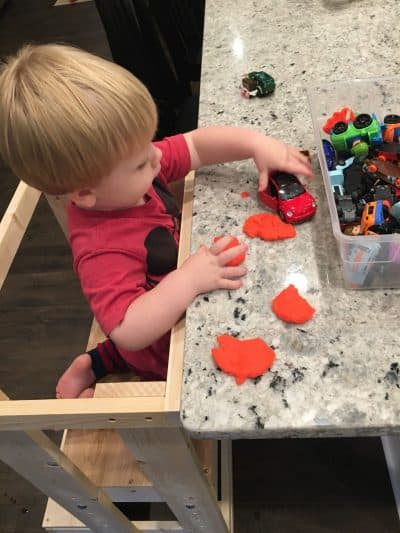 He enjoyed this but it was also like the shaving cream, it just looked so tasty that I had to keep a careful eye on him because he just HAD to see what it tasted like.
Play-Doh Modeling Compound 10 Pack
12)

Kitchen Floor Water Party
My son LOVES water. He loves baths and he loves playing in the sink. He is content doing these things for at least 45 minutes at a time!
However, if he's playing in the bath then I need to be in the room with him because he's still too young to be left in water unattended. If he's playing in the kitchen sink and standing in our kitchen helper, I can still keep an eye on him.
However, tonight I needed to cook dinner and I was running cold water over frozen shrimp to thaw it out. He wanted to play in the sink but I was using the sink and the water for the food. So a new toddler activity was born! I put a towel down on our kitchen floor and put a plastic container on top of it.
The container isn't very tall, but still wide enough that he can sit in it and have room to play. However, I would suggest getting one of these small inflatable kiddie pools and putting just a little bit of water in it instead. The sides of the plastic container I used are hard and my son fell when it was time to get out, leaving a bruise on his sweet little leg. Lesson learned for this Mama.
Intex Sunset Glow Baby Pool (34 in x 10 in)
I used a pitcher to fill the container up with warm water and threw some toys, a measuring cup, and a plastic cup in there. He sat and played in that bucket the entire time I was working on dinner. It was perfect because I could still use the kitchen sink, I could see him the entire time, AND he was kept busy while I was cooking.
I had to teach him that he couldn't splash because I didn't want water all over the floor and that he could NOT stand up without my help or he would fall. He did a really good job with it and it will be something we continue to do…with the kiddie pool inside…not the container!
Final Thoughts on Toddler Activities
*The products linked above are all found on Amazon. If you don't have an Amazon Prime account, you can still get free 2-day shipping by signing up for a 30-day free trial here.
Remember to get creative and use what you have! These toddler activities were built upon items already laying around our house. If you don't have something, use something similar!
Several of these activities can create a mess, which is the case for a lot of "hands-on" toddler activities. However, with a little training, your toddler will understand how the activity works! Just remind them to try and keep the items in the space you have given them.
Toddler activities are such a great learning experience for your child. It allows them to be creative while having fun! I know he is having fun while working on skills like fine motor and critical thinking! It's also a big chunk of time where he's not wanting screen time and that's always a plus!
Check Out Some of My Other Blog Posts!
–When Your Toddler's Behavior is a Problem
–Toddler Hacks & Tips That Will Make Life Easier!