*This post may contain affiliate links, please see full disclosure for details.
A bassinet bed is where your newborn will sleep after bringing them home from the hospital. It goes right beside your bed and is much smaller than a crib. A bassinet is made for babies from birth to about 4 months old. They are oval-shaped and have mesh or cloth sides for safe sleeping. Here are the 6 best-rated babies bassinets including their features, safety, cost, space they take up, and mobility from place to place!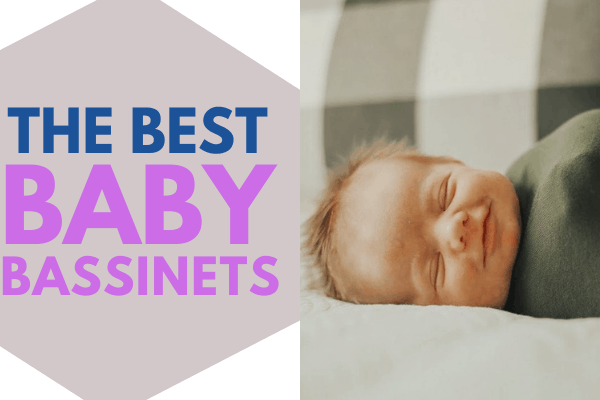 "Is a Crib or Bassinet better for a Newborn?"
With a babies bassinet, baby will be within arms reach during those late-night breastfeeding or bottle-feeding sessions.

Getting out of bed and having to lean over a crib to get baby in and out can be difficult after delivery/c-section.

A baby bassinet is easy to take a peek and check on your baby with him/her right by your bed.

Bassinets are a much safer option than bed-sharing with your baby: he/she has their own sleeping space but are still close by.
"How Long Can a Baby Sleep in a Bassinet?"
Bassinets are used from birth until they are rolling over or pushing up on their hands. Babies usually reach this milestone around 3 to 6 months. You will also need to move baby out of the bassinet if they have reached the bassinet bed's weight limit recommendation.
"What is the Best Bassinet?"
The best bassinets are chosen by their safety, additional features, how much room they take up, if they are easy to move from place to place, and if they are affordable!
The 6 Best Bassinet Beds for Baby
1. The Halo Bassinest
The Halo comes in 5 versions: The Essentia, The Premier, The Luxe Series, The Luxe Plus Series, and The Bassinest Twin Sleeper! The main differences between these versions are that the more expensive versions include things like vibrations, music and sounds, night lights, and extra storage. The Essentia is the basic version and doesn't include vibrations or music.
Halo Bassinest Swivel Sleeper, Essentia Series, Modern Lattice
Safety: The Halo Bassinest has mesh sides that encourage airflow to baby. The Bassinest swivels and you can pull baby right to you while you are in bed. Allows baby to sleep right next to you, but without bed-sharing!
Affordable: The Halo BassiNests vary in price. The Essentia is the basic version and is the least expensive.
Space: Made to go right beside your bed. This makes it easy to breastfeed or bottle-feed baby during the night. You can unlock the side and get baby out without leaning over like you would a crib. The base and legs are rather big and bulky, but the legs can slide underneath your bed. It is easy to setup.
Mobility:The Halo BassiNests are rather heavy and bulky for a beside-the-bed bassinet. It is also not a great option if you want something you want to easily move room to room. However, the mobility of the bassinest being on a swivel is great! You can pull baby right to you and unlock the side to get baby out easily from your bed!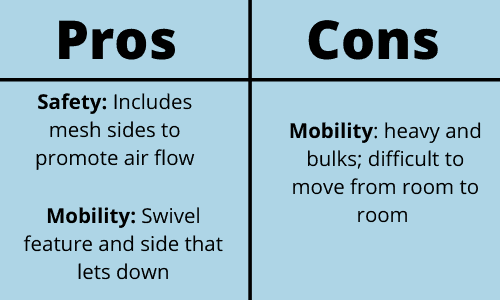 2. Fisher-Price Soothing Motions Bassinet
This bassinet has so many great features for a fraction of the price of others on this list! This bassinet's features include gentle motion, a mobile, lights, sounds, a swaying feature, and vibrations! And like the Halo, this bassinet also has mesh sides to promote airflow! (Swaying feature does not sway on it's own, has to be gently moved by adult)
Fisher-Price Soothing Motions Bassinet, Windmill
Safety: This bassinet for baby includes a flat mattress, breathable fabric, and mesh sides so it is designed for best sleep practices! However, some parents comment that the swaying motion is rather jerky.
Affordable: These bassinets for babies have such a reasonable price considering all the features it comes with! It is less than $200!
Space: This bassinet bed is lightweight and designed to go right beside your bed. It does not take up a lot of space.
Mobility: This bassinet is quick and easy to assemble. It is simple to move from room to room, with some parents moving it to the living room during the day and back to their room at night. It has a bag to store it in that will easily fit in your car's trunk for travel!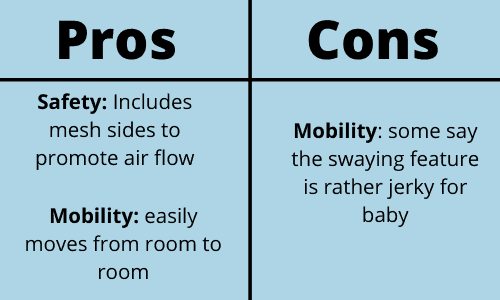 3. Baby Delight Beside Me Dreamer Bassinet Bed & Bedside Sleeper
This is currently Amazon's #1 best selling bassinet! This has 2 different modes: bassinet and sleeper. During bassinet mode, all sides are surrounded by a breathable mesh. But during sleeper mode, you unzip the side panel closest to you and push the bassinet right up next to your bed with the side down. There are straps included to strap the sleeper to your bed, making sure it stays in place.
Baby Delight Beside Me Dreamer Bassinet & Bedside Sleeper
Safety: When in bassinet mode, the baby is surrounded by breathable mesh to promote airflow. Although you should steer clear of using the Sleeper mode if you are uncomfortable with baby's bed being attached to yours and not being separated on all sides.
Affordable: This bassinet bed is in the affordable around $200 range, which is average for most top rated bassinets. However, it does not have any features like vibrations, mobile, etc.
Space: The bassinet has a 6 position height adjustment feature to align it with most adult size beds.
Mobility: This is lightweight and able to move from room to room. However, it is not ideal for a bassinet needed for travel.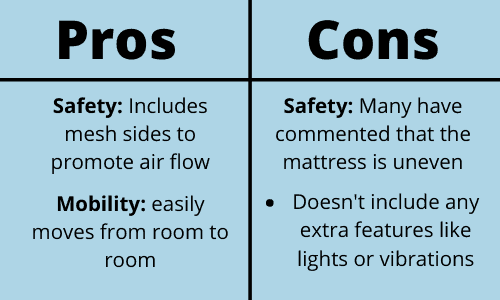 4. Chicco Lullago Primo Portable Bassinet
The Chicco Bassinet is GREAT for travel. It weighs 17 pounds and the legs snap on. It is very quick and easy to assemble and comes with a travel bag. The bassinet has mesh sides and many other great features. It comes with a memory foam mattress, an adjustable canopy with hanging toys, and a storage pocket.
Chicco LullaGo Primo Portable Bassinet, Nottingham
Safety: Baby Bassinet includes mesh sides to promote airflow. The mattress is a firm, flat surface.
Affordable: This bassinet is in the affordable range and is around $150. It comes with the features of having hanging toys and a storage pocket. However, it does not sway, rock, vibrate, etc.
Space: It does not take up a lot of space in your room. This baby's bassinet has a place for storage and the canopy is removable.
Mobility: Perfect bassinet for travel. It can be assembled in less than a minute! The legs snap on and it has a travel bag to put it in.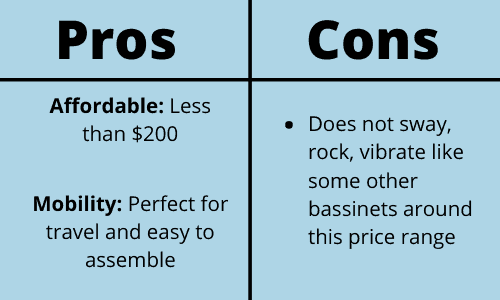 5. Graco Pack n' Play Playard Newborn Seat Oasis with Sooth Surround
The Graco Pack n Play offers 5 different soothing environments to customize to baby's preference that includes car ride, heartbeat, lullaby, stroller ride, and playful. It mimics these environments with synchronized sounds and vibrations. It includes a large extended-use changing station for diapers that hold up to 30 pounds.
The napper feature is only to be used with supervised naps. However, the playard is spacious with mesh sides for baby to sleep in. It can be used from newborn to infant to toddler! The pack n' plays are popular with their push button that allows you to fold it and easily move it from place to place or put in the car!
Graco Pack 'n Play Newborn Seat Oasis with Soothe Surround
Safety: Napper should only be used with supervised naps. However, playard has mesh sides that allow for ventilation and visibility.
Affordable: This bassinet is in the affordable range and is less than $200. It will last from newborn to toddler years and can also be used as a changing station for diapers.
Space: This playard does take up more space than the other traditional bassinets. But it is smaller than a full-sized crib.
Mobility: Perfect bassinet for travel. It can be assembled and broken down quickly with the push of a button! Easily goes in your car and has a handle to carry it.

6. SNOO Smart Sleeper
This bassinet is not in the super affordable range. HOWEVER, the parents that have it, rave about it! It is around $1200! But hey, if you have the money…this is the bassinet for you!
The SNOO uses motion and white noise to rock your baby to sleep. It says the SNOO will "hear" baby fussing/crying and respond accordingly. It gradually increases the amount of white noise and rocking to find the best levels to calm baby.
It claims to increase baby's sleep time and be one of the safest bassinet's out there. This bassinet comes with 3 SNOO sacks that attach to safety clips that secure babies on their back and prevent the risk of rolling and suffocation.
The SNOO also connects to an app that logs your baby's sleep and lets you adjust motion, sound, and cry sensitivity. It gives weaning options as well when you are getting ready to transition your baby to a crib.
SNOO Smart Sleeper by Happiest Baby
Safety: This bassinet claims to be the only bed that meets the American Academy of Pediatrics Safe Sleep Guidelines because the safety clips on the SNOO sack attach to the bed and keep baby from rolling over. The bassinet is also surrounded by mesh sides to promote airflow.
Affordable: This bassinet is definitely not in the affordable range for most families. It is over $1000. However, the majority of reviews say it is "worth every penny" due to baby sleeping in longer stretches and therefore more rest for exhausted parents.
Space: Reviewers say the SNOO is heavy and does take up quite a bit of space.
Mobility: The SNOO is easy to assemble and disassemble but it is quite heavy! It is not a bassinet that will fold into a travel bag, but the legs do come off and are easy to put back on.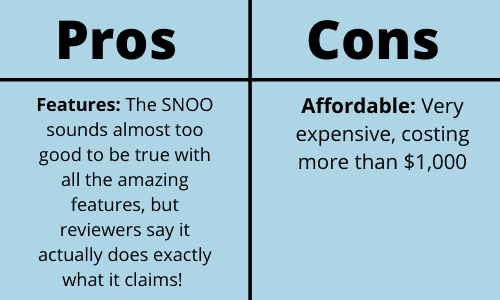 *The bassinets linked are all found on Amazon. If you don't have an Amazon Prime account, you can still get free 2-day shipping by signing up for a 30-day free trial here.
"Is bassinet safe for night sleeping?"
According to the American Academy of Pediatrics, "A crib, bassinet, portable crib, or play yard that conforms to the safety standards of the Consumer Product Safety Commission (CPSC), including those for slat spacing less than 2-3/8 inches, snugly fitting and firm mattresses, and no drop sides, is recommended.21 In addition, parents and providers should check to make sure that the product has not been recalled. This is particularly important for used cribs. Cribs with missing hardware should not be used, nor should the parent or provider attempt to fix broken components of a crib, because many deaths are associated with cribs that are broken or with missing parts (including those that have presumably been fixed). Local organizations throughout the United States can help to provide low-cost or free cribs or play yards for families with financial constraints."
"Are in bed bassinets safe?"
According to the American Academy of Pediatrics, "There is insufficient evidence to recommend for or against the use of devices promoted to make bed-sharing "safe." There is no evidence that these devices reduce the risk of SIDS or suffocation or are safe. Some products designed for in-bed use (in-bed sleepers) are currently under study but results are not yet available. Bedside sleepers, which attach to the side of the parental bed and for which the CPSC has published standards,22 may be considered by some parents as an option. There are no CPSC safety standards for in-bed sleepers. The task force cannot make a recommendation for or against the use of either bedside sleepers or in-bed sleepers, because there have been no studies examining the association between these products and SIDS or unintentional injury and death, including suffocation."
"What is the best bassinet?"
The best bassinet bed is one that is safe for your infant to sleep in. Besides that, the best bassinet depends on your price range and the features you are looking for. All baby bassinets listed above are highly recommended and have the best customer ratings.
"Do bassinets cause SIDS?"
According to the CDC, health care providers and researchers don't know the exact causes of Sudden Infant Death Syndrome (SIDS). However, research shows parents and caregivers can help reduce the risk of SIDS and other sleep-related infant deaths by doing the following:
Place your baby on his or her back for all sleep times—naps and at night.

Use a firm, flat sleep surface, such as a mattress in a safety-approved crib , covered by a fitted sheet.

Keep your baby's sleep area (for example, a crib or bassinet) in the same room where you sleep until your baby is at least 6 months old, or ideally, until your baby is one year old.

Keep soft bedding such as blankets, pillows, bumper pads, and soft toys out of your baby's sleep area.

Do not cover your baby's head or allow your baby to get too hot. Signs your baby may be getting too hot include sweating or his or her chest feels hot.
"Can baby suffocate on side of bassin

et?"
You want to make sure that the sides of the bassinet are NOT made out of soft or plush material. Mesh sides that promote air circulation are best.
"Can I leave my newborn while I shower?"
If your baby is asleep in their bassinet and you are following all of the recommended sleeping guidelines, it is okay to leave your baby to take a shower. However, it is best to bring your baby monitor with you.
"When should I stop using a bassinet?"
Most babies transition out of the bassinet between 3 to 6 months. This depends on your child's milestones and their weight. Baby needs to be moved to a crib if he/she is rolling over or pushing up on their hands. They also need to be moved to a crib if they meet your bassinet's weight limit recommendation.
Final Thoughts on the Best Bassinet Bed:
There are so many bassinets you can choose from for your precious little newborn. Those I mentioned are among the highest-rated. Whether you go with a bassinet or starting baby out in a crib from day one, these are basic safety rules for all sleeping babies.
NO SOFT BEDDING: Don't use crib bumpers, blankets, pillows, etc.

Do not overdress baby and keep the room baby is sleeping in around 68°F

Always place baby to sleep on their back
Additional Resources on Safe Sleeping:
Thanks for reading! Make sure to follow me on Pinterest for other information on all things pregnancy, baby, to toddler!
Here are some of my other popular baby-related posts!