*This post may contain affiliate links, please see full disclosure for details.
By now you have probably acquired a whole lot of hacks, tips, and tricks that you learned while you went through the newborn and baby stage. But now you have a toddler! And it's a whole different ball game because now your child is walking, talking, and not as easily occupied!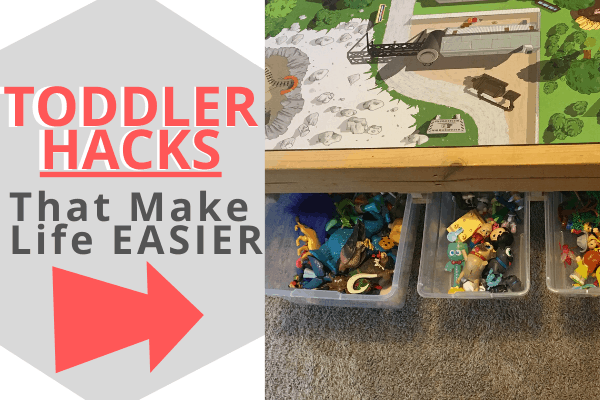 These toddler hacks are tips I picked up from other moms or that I discovered while taking care of my own little wild man.
These tricks and hacks will help you stay organized, avoid a big mess, or keep your toddler entertained. This list will continue to grow too!
1. Toddler Hacks: Use a Small Space Heater After Baths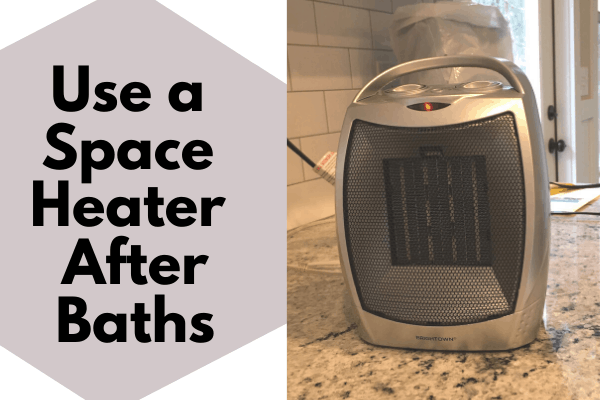 When my toddler would get out of the warm bath water and was wrapped in his bath towel, he would start to shiver. I quickly was trying to get his hair dry, put on lotion & pajamas while he was cold.
There was no way I wanted my sweet boy to be cold so I've used a small space heater ever since. I lay his towel on the floor in front of it and the heat is on him while I put on his lotion and get his pajamas on. I keep my leg between him and the heater so I know exactly how hot it is.
Ceramic Space Heater with Adjustable Thermostat
Don't take any chances with it being too warm for your little one. Make sure it's also not in arms reach for your toddler to reach out and grab it!
2. Toddler Hacks: Attach a Spoon to Snack Pouches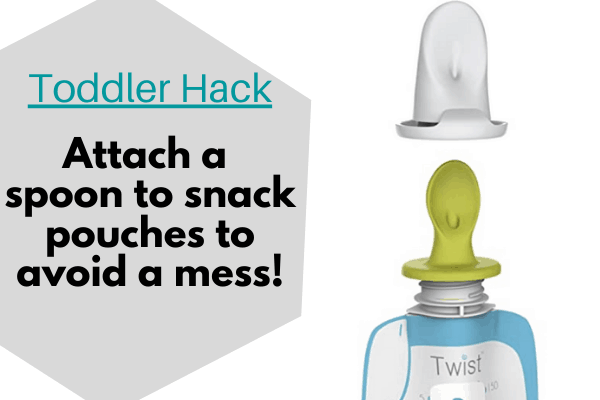 If you've given your toddler a snack pouch, you've had them squeeze the pouch and get the food all over them at least once. This is the coolest little invention.
Twist the spoon on to the spout. Then the food squeezes into the spoon and makes it easier for them to eat. Less mess!
Kiinde Foodii Baby Food Storage, Reusable Squeeze Spoons
3. Toddler Hacks Clip a Fan to Toddler's Stroller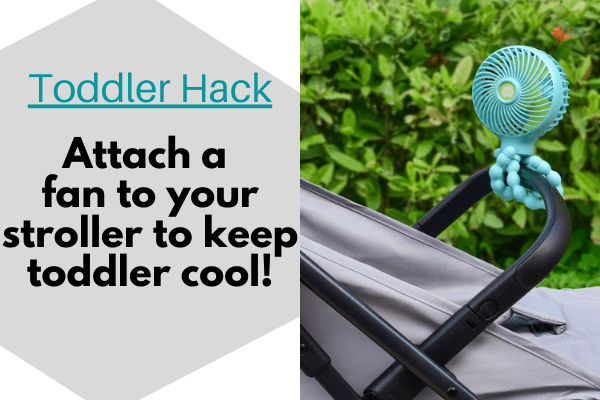 Clip a battery-powered fan to the tray of your stroller to keep baby cool! Quick & Easy and keeps baby comfortable on those hot Summer days when you're outside!
WiHoo Mini Handheld Stroller Fan
4. Toddler Hacks: Record a Short Video on Your Phone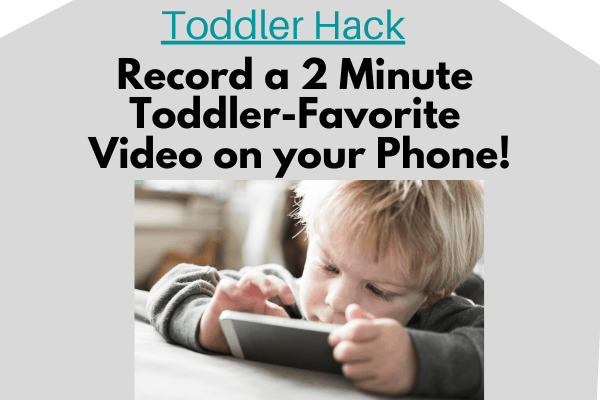 Has your toddler ever been sick, uncomfortable, etc and you couldn't get your wifi on your phone to work? Stop trying to fool with those apps that won't open because you are in a cell phone dead zone.
Point your phone at the TV while you are at home recording your child's favorite song (I recorded the "Baby Shark" song) for 1 to 2 minutes.
This helped me keep my sanity when my son had an ear infection and we were waiting at the doctor's office. The building is in a cell phone dead zone and none of my apps would work. I could easily go to my photo album on my iPhone and keep him happy listening to Baby Shark while we waited.
5. Toddler Hacks: Rotate Toy Bins & Special-Occasion Toys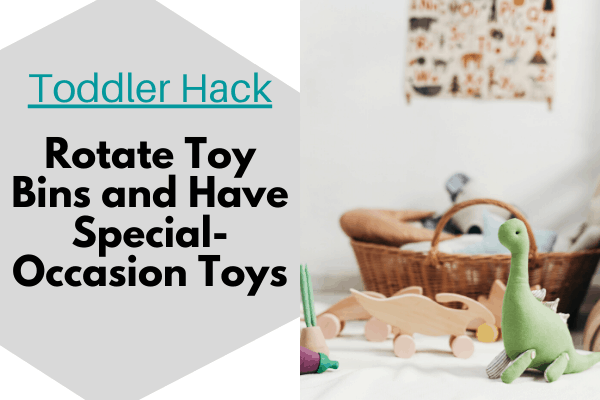 Pack up a bin of old toys that your toddler never plays with anymore and put them in storage. Then bring them out a month later and they will feel like they've just gotten a box of brand new toys!
Also, keep a few toys that they only get to play with on special occasions so that they still feel special.
We have certain toys and books that only come out while we are at church. Our toddler sits through the church service with us and he looks forward to getting his "church bag" full of activities he only does quietly on Sundays!
6. Toddler Hacks: Car Snacks and Organizer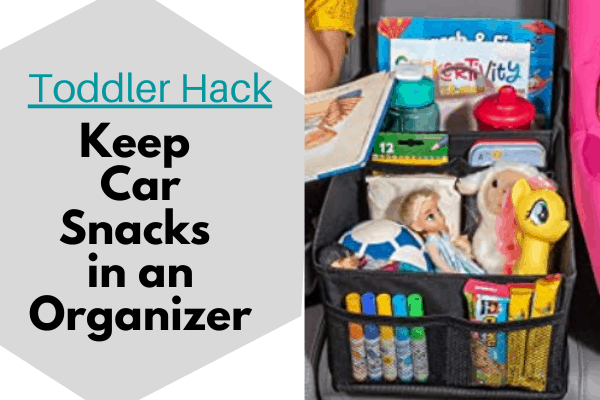 Stop worrying about if you have enough snacks in the diaper bag and keep an extra supply in your car! Don't put things in there that will go bad or melt. I find myself eating out of this snack container quite a bit myself too!
Premium Front & Backseat Car Organizer | Heavy Duty Back Stitching
7. Toddler Hacks: Listen to Audio Books in the Car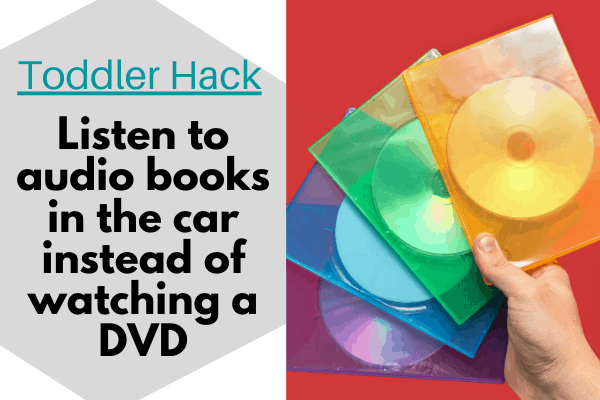 Don't want your child always glued to the DVD player in the car? Listen to books on tape! I wish we had started listening to books before ever putting in the first DVD so that was always the norm. However, he still enjoys listening to books even introducing them later!
Audible offers the world's largest selection of digital audiobooks. You can listen to books on your devices anytime and anywhere…including the car! Get 2 free audiobooks when you sign up for Audible's 30 day free trial here.
Children's Favorites, Vol. 1: Disney Bedtime Favorites -and- Disney Storybook Collection
8. Toddler Hacks: Storage Bins Under Table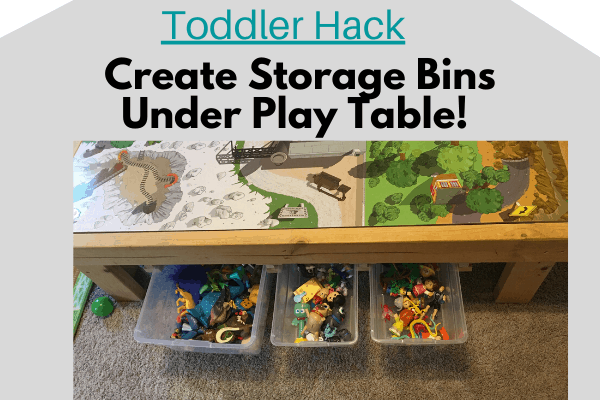 Hide storage bins under your train table! Instead of storage containers that take up more space in the playroom, my husband made a track for bins to slide underneath my son's train table.
You could also just store them under the table, but we like that they slide into place. It gives more space in the room and still keeps his toys and room organized!
9. Toddler Hacks: Coffee Filter in Training Toilet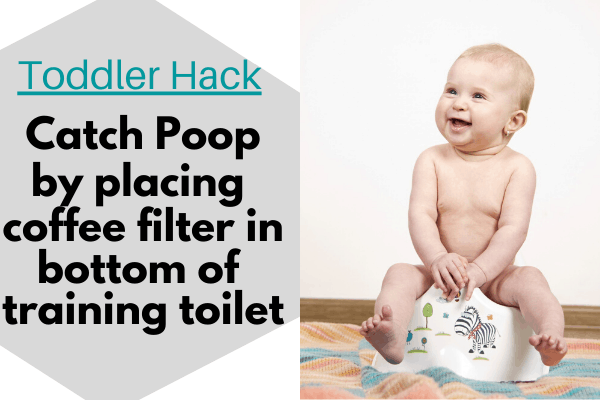 When you start potty training, you'll most likely be using training toilets to being with. Dumping pee out of the toilet isn't that big of a deal but scraping the poop out isn't one of my top favorite things to do.
So place a coffee filter in the bottom before your little one goes poop. It's much easier to throw away and clean out the bottom of the training potty!
10. Toddler Hacks: Ice for a Snack instead of Popsicles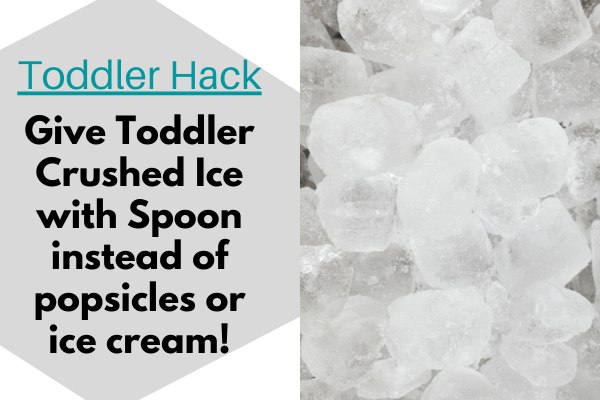 Does your toddler love popsicles as much as mine does? He calls them "sicle, sicle" and it's adorable. He asks for one multiple times a day. However, I don't want to keep handing over these popsicles to him with tons of sugar. So I've started giving him crushed ice! He sits on the couch with a cup of crushed ice and a spoon.
Munchkin Fresh Food Feeder, 2 Pack, Blue/Green
And no he's not anemic because he loves ice. I've also put an ice cube in one of these snack pouches and he thinks it's just as good as getting his "sicle, sicle" aka popsicle!
I'll also put ice cubes into the mesh pouches I linked above and he loves chewing and sucking on it like it's a popsicle! The bag also keeps him safe from choking because he isn't able to get to the whole ice cube.
11. Toddler Hacks: Built-in Training Potty Seat
I wish that I had invested in this a long time ago. It makes life so much easier, and cleaner! Stop using those bulky seats that go on top of your toilet and do yourself a favor and get this built-in one.
It is disgusting for yourself or guests to have to move a potty seat off the toilet to use it. Plus there is a good chance there might be pee or poop on it if a little person has gone to the bathroom by themselves before you.
This built-in potty seat makes things so easy. It has a magnet so it defaults to the normal toilet seat unless you pull the smaller toilet seat down. It's super easy to wipe down too. This way if anyone ever uses your bathroom, there is no removing any toilet inserts. Trust me, you want this.
MAYFAIR 888SLOW 000 NextStep2 Toilet Seat with Built-In Potty Training Seat, Slow-Close, Removable that will Never Loosen, ROUND, White

12. Toddler Hacks: Read a Story During Dinner:
There is no arguing that reading to your baby and toddlers is great for their development. It helps with their speech and vocabulary but sometimes it's hard to get them to sit still for a story, especially for my almost 2-year-old.
As part of our routine, I started reading a chapter of the Children's Storybook Bible at the end of dinner. My children have loved it and my baby is so attentive. He is in his high chair and eating, so he is quiet and sitting still for the story.
The Jesus Storybook Bible: Every Story Whispers His Name

When we finish the Bible, we just start back over again. (This is also one of my toddler tips for how to encourage your toddler to be a kind human. Read here for more toddler tips on how to teach your toddler to one day be kind and have a good work ethic.)
13. Toddler Hacks: All Parents Need a Dustbuster:
I bought this dustbuster a few months ago and wish I had bought it a lot sooner. Even my 1 and 4-year-old love it and can use it independently. My 4-year-old loves pushing the button on it and vacuuming up any crumbs after he eats.
We went on vacation a few weeks ago, and I even packed it. It was so nice to have it in the car for when my children were eating snacks and also in the hotel room.
I use this dustbuster several times a day. I keep the charger in our laundry room and when it's not in use, it's charging. We all love using it and have had it for months.
BLACK+DECKER dustbuster QuickClean Cordless Handheld Vacuum, White

14. Toddler Hacks: How to Get Your Toddler to Sit Still and Quietly:
There are several reasons you may need your toddler to sit still and quietly for a bit. This could be because they are sitting in a church service, they are attending a graduation or ceremony, you need a small period of silence for your sanity, etc.
My children have grown up sitting in our church service with us for an hour. We have a system that usually works to keep our toddlers still and quiet for that long. The toddler hack is having snacks, books with flaps, and stickers. We use these items in that order too.
Open the Barn Door (A Chunky Book(R))

We pack their favorite snacks and the book and stickers are only something they can have at church on Sundays. This keeps them engaged because they haven't seen these items for a week. My 1-year-old does like to cover mine and my husband's legs with stickers, but he's quiet so it works for us.
15. Toddler Hacks: Exercise on Rainy Days:
Okay, so you can not hold me accountable if this goes horribly wrong. I do this at least once a week with my children and they love it, but you may think I'm a little crazy for it.
When we can't get outside to let them run around, I move my oldest child's twin-size mattress into the living room by the couch. However, his bedroom is on the main floor so I'm not having to drag it downstairs. My kids LOVE jumping from the couch onto the mattress.
I put pillows and blankets down and they have to take turns jumping onto the mattress. I'm also closely monitoring them the whole time to intercede if things look like they are getting too dangerous. But they LOVE it. It also makes them nice and tired. With my husband's help, I have also moved our king-size mattress into the living room, the kids have so much fun.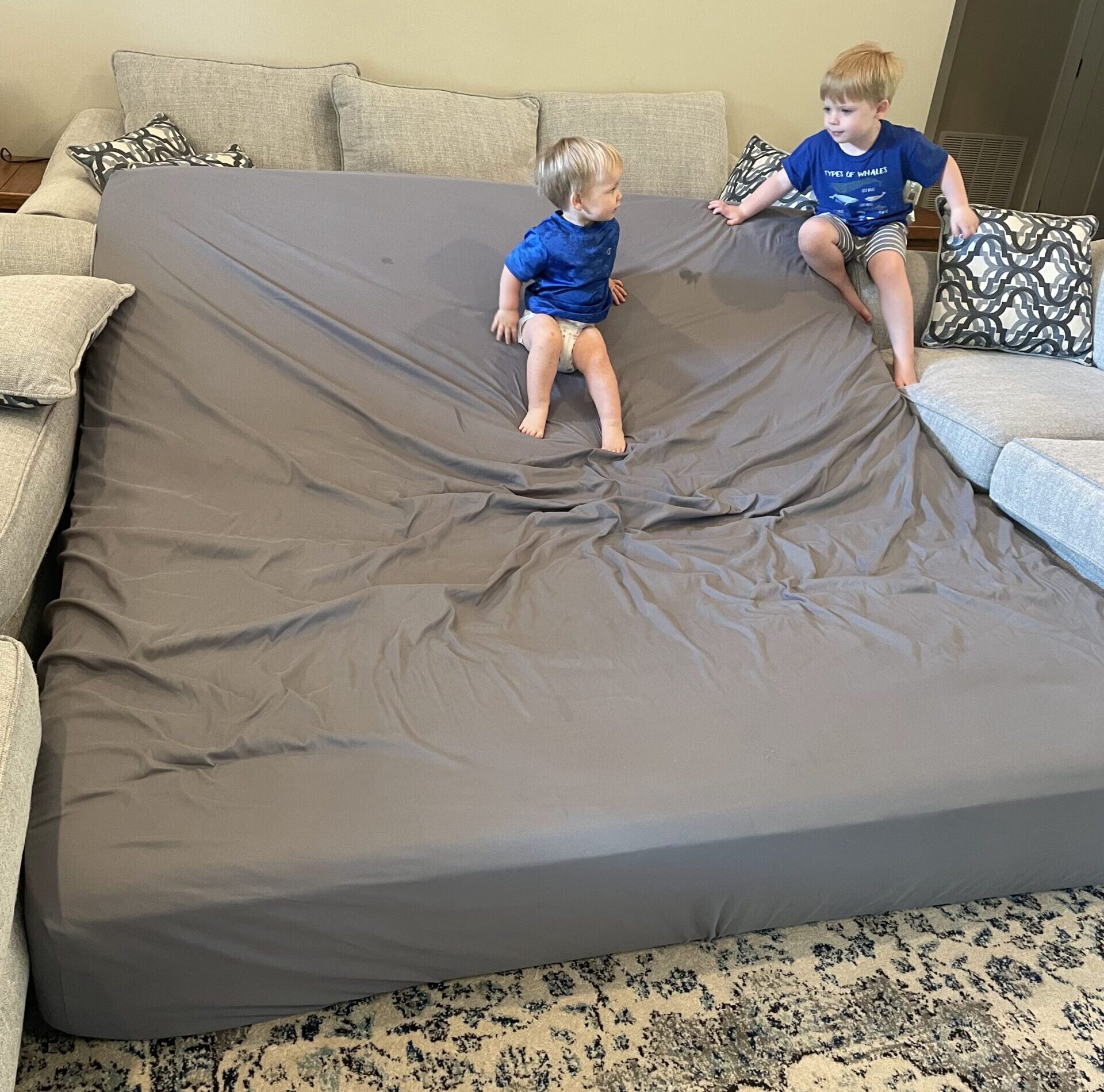 We are big fans of the Linenspa mattresses on Amazon. We ordered the same mattress for us and our son. A twin size for him and a king size for us!
Linenspa 12 Inch Gel Memory Foam Hybrid Mattress – Ultra Plush – Individually Encased Coils – Sleeps Cooler Than Regular Memory Foam – Edge Support – Quilted Foam Cover – King

If moving an entire mattress once a week sounds miserable to you, invest in one of these Foamnasium couches! The pieces can be constructed to make different shapes for your children to climb on. It is also much lighter than moving a king-size mattress haha. Probably a lot safer too.
Foamnasium 1521 Blocksy Kids Couch, Gull Gray

Toddler Hacks: Frequently Asked Questions:
*Several of these suggestions include products on Amazon. If you don't have an Amazon Prime account, get free 2-day shipping by signing up for a 30-day free trial here and get unlimited, free 2-day shipping with no minimum order size.
Last Thoughts on Toddler Tips
This list will continue to grow as I remember to write down little things that make mom life easier! Some of these toddler hacks might have been a "no-brainer" but I hope a few of them made you say "that's a great idea!".
Make sure to Follow Me on Pinterest♥ for all information from baby to toddler!
And Check Out Some of My Other Popular Posts: