*This post may contain affiliate links, please see full disclosure for details.
Are you asking yourself "What can I do with my 2 year old outside"? Well, I was too! Then, we put together a space in our backyard that is a toddler's dream play place! We did this by purchasing some of the best outdoor toys for 2 year olds!
The outside toys recommended are the best outdoor toys for toddlers ages 18 months up to 5 years old! You will definitely find a great gift for a toddler that will fit your budget and the type of outdoor toy you are looking for whether it is a swing, slide, sports toy, water toy, sand, exploring the outdoors, and more!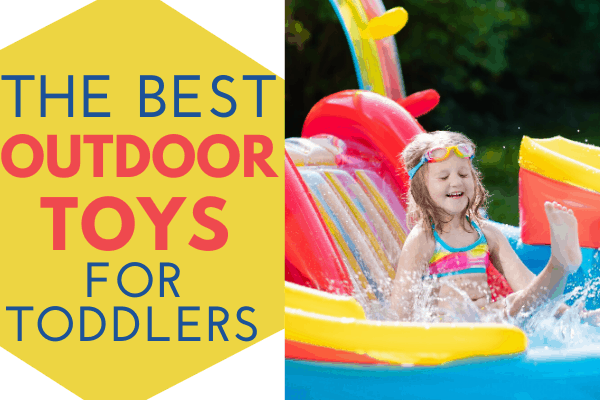 What Can I do with my 2 Year Old Outside?
Choosing outdoor toys for toddlers can be overwhelming with so many options! Let me help you narrow it down!
If it is hot outside you will want to invest in some water toys like an inflatable pool, sprinkler, or a splash pad! Or if you want to tire your toddler out, I'd recommend toys that will keep your 2 year old active including swings, a slide, or a bounce house. But outside toys for toddlers aren't always limited to big objects. There are plenty of busy toddler outdoor toys that are small too like sidewalk chalk, nature sets, and bubbles!
The Best Water Table:
Outdoor Toys for 2 Year Olds
Little Tikes Anchors Away Pirate Ship
Your 2 year old will love splashing around in this water table! It has a plug underneath to drain out the water and comes with accessories like water cups and pirate figurines!
The Best Water Sprinkler:
Outdoor Toys for 2 Year Olds
Ginormous Inflatable Dinosaur Yard Sprinkler, Stands Over 6 Feet Tall
My son loves this sprinkler! Just inflate it and hook it to your garden hose! They have different animal options like a unicorn, dog, snake, and more! This outdoor toy is over 6 feet tall and will keep your toddler cool on those hot Summer days!
The Best Inflatable Pool:
Outdoor Toys for 2 Year Olds
Intex Jungle Play Center Inflatable Pool with Sprayer
This is one of my favorite outdoor toys for 2 year olds because the inflatable pool has a slide AND a sprayer over the slide. Most slides don't have water that comes down on the slide which can make it difficult for toddlers to slide easily. You can always unhook the water to keep it from spraying too.
The Best Splash Pad:
Outdoor Toys for 2 Year Olds
3-in-1 Sprinkler for Kids, Splash Pad, and Wading Pool for Learning
Another one of the best outside water toys is a splash pad! Attach your hose to it and listen to your child squeal as the water shoots up from the mat. It's like having a mini water park in your yard!
The Best Swing:
Outdoor Toys for 2 Year Olds
Little Tikes FFP 2-in-1 Snug 'N Secure Swing
This swing makes sure your toddler is secure with the T-bar that comes down to make getting your child in and out of the swing easy. Your toddler will love being pushed in this swing and feeling the wind on their face as they go back and forth!
The Best Slide:
Outdoor Toys for 2 Year Olds
Little Tikes First Slide (Red/Blue) – Indoor / Outdoor Toddler Toy
Every 2 year old needs this slide! Ours is currently in our living room because it's been raining outside. It is the perfect height for a toddler so they can independently climb up and go down it without help. Such a classic and timeless toy!
The Best Sandbox:
Outdoor Toys for 2 Year Olds
Best Outdoor Play Cedar Sandbox w/Sand Screen
This sandbox has the BEST features! The seats that you see in the picture FOLD DOWN and function as the sandbox's lid. This way it doesn't get wet in the rain and will keep bugs and critters out when you aren't using it. I love that it has seats so your toddler doesn't have to sit directly in the sand. You do have to buy sand separately.
The Best Bubble Machine:
Outdoor Toys for 2 Year Olds
Kidzlane Bubble Machine – Bubble Machine for Toddler and Kids Outdoors – Automatic
We have used our bubble machine many, many times. It has even lasted well despite constantly getting left out in the rain. No more getting out of breath or having your arms hurt from blowing bubbles over and over again. Pour the bubbles in the fish's mouth, press a button, and you've got tons of bubbles for your 2 year old to enjoy!
The Best Basketball Goal:
Outdoor Toys for 2 Year Olds
Little Tikes Easy Score Basketball Set, Blue, 3 Balls – Amazon Exclusive
This outdoor activity for toddlers is another classic! The toddler basketball goal is so much fun and gets them introduced to sports! You can alter the goal for height too!
The Best Ride On Toy:
Outdoor Toys for 2 Year Olds
Best Toddler Motorized Vehicle: Manuel or Remote Control
We bought the red version of this car when my son was 1. The car can be driven by remote control and then when your toddler can drive themselves, you just flip a switch and they can steer themselves. The car has 2 speeds and you can download music for them to listen on their radio.
The Best Gardening Set:
Outdoor Toys for 2 Year Olds
Kids Cleaning Set and Gardening Tools 24pcs Garden and Housekeeping Toys
This little housekeeping and gardening set is precious. It has the perfect sized little gardening tools for your toddler to pretend to garden alongside you and comes with a trolly to easily carry it all!
The Best Nature Set:
Outdoor Toys for 2 Year Olds
Timy 6-in-1 Outdoor Kids Explorer Kit, Adventure Kit with Binoculars, Flashlight, Compass, etc
This is one of my favorite outdoor toys for 2 year olds because toddlers are SO curious! Give them these tools to explore the world around them. Your toddler will love to catch and examine the nature and bugs you find together!
The Best Sidewalk Chalk:
Outdoor Toys for 2 Year Olds
Thick sidewalk chalk is great for little hands and fingers to draw with. We use it at our house and don't even have a concrete driveway. My toddler draws on our wooden deck and the rain washes it away just like it does on concrete!
The Best Playhouse:
Outdoor Toys for 2 Year Olds
Backyard Discovery Timberlake All Cedar Wood Playhouse
Your toddler will love playing pretend in this little playhouse. It comes with a play kitchen, play phone, and working door. My son loves pretending the playhouse is his home and inviting others to come inside where everything is just his size!
The Best Swing Set:
Outdoor Toys for 2 Year Olds
Backyard Discovery Buckley Hill Wooden Swing Set
This is the most expensive outdoor toy I recommend. It is a playground that is going to last for years and years. Your toddler will need some assistance climbing up to the top of the slide but will be able to do it all by themselves before you know it! This is a very affordable option compared to other playgrounds and the quality is still great.
What Are Some Outdoor Activities for Toddlers?
Here are some great options for outdoor games for 2 year olds and toddlers! Get them involved in the family game night using some of these toys that can include them!
Paddle Catch Ball and Toss Game Set Disc Toss and Catch Paddle
Bean Bag Toss Game Toy for Toddlers
Hungry Toss Shark Toys – Kids Dart Board
What Are the Best Outdoor Toys for Toddlers?
If you haven't found something that you think your 2 year old will enjoy from the list above, I've saved my family's best overall outside pick for last. The inflatable Toddler Bounce House!
Inflatable Bounce House, Castle Jump and Slide Bouncer with Oxford Mesh Wall
Little Tikes Jump 'n Slide Bouncer – Inflatable Jumper Bounce House

A bounce house has been THE BEST investment. These bounce houses come with a storage bag and blower. It inflates in a matter of minutes. We've taken it to other people's houses because it is so easy to set up.
This bounce house is a huge hit with all the toddlers that use it. If I had to choose just one thing from this list, the bounce house would be my choice! When it is cold and rainy outside, we inflate it in our basement or garage. It saves our sanity on the rainy days when the kids need to run around but can't get outdoors.
We've had ours for years and my oldest still loves it. We have several friends who have bought one too after using it at our house. GREAT OUTDOOR TOY INVESTMENT.
All About Amazon Prime
All of the outdoor toys for toddlers listed above are found on Amazon! If you don't have an Amazon Prime account, sign up for a 30-day free trial here and get unlimited free 2-day shipping with no minimum order size!
For more gifts ideas or other information on toddlers, check out some of my other blog posts!