*This post may contain affiliate links, please see full disclosure for details.
This is a follow-up to my post When Your Toddler's Behavior is a Problem. My previous post was about my realization of how I was doing a disservice to my son, by not training him to obey.
Implementing Toddler Discipline is needed for my toddler's safety, like obeying when I tell him not to go into the road. First, I made a list of the behaviors that I needed to start dealing with!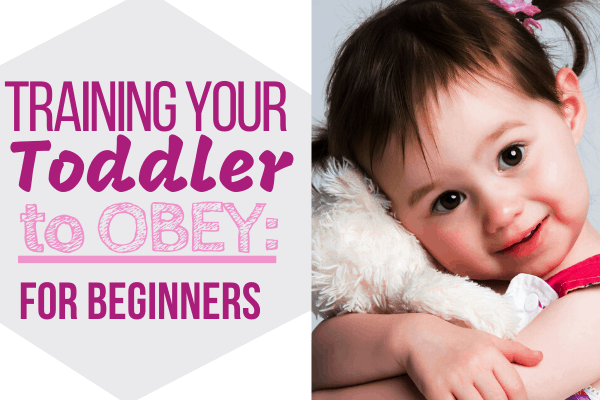 The first day of teaching my toddler to obey & toddler discipline:
I knew I had to start small! First, My husband and I made a list of all the problem behaviors we wanted to address with our toddler. Then, we circled what we would be working on with him on Day and Week 1.
We made a plan together so that we would be consistent with our toddler training and discipline. Next, we talked about the expectations for our son and the consequences we would give.
We picked just a couple of behaviors to address at first because…ya know that saying "Rome wasn't built in a day", well my toddler's behavior wouldn't be all better in one day either.
For each behavior, we talked about what we wanted to teach our son to do instead.
So part of my list says "undesired behavior" to define the problem behavior and "replacement behavior" for what we want to see him do instead. For the full list of the toddler behaviors we were dealing with, see my post When Your Toddler's Behavior is a Problem.
Again, this was DAY 1 of implementing Toddler Discipline:
-I was being very repetitive in showing my son what I wanted from him. This was the first day and this was all new to him!
-I had to TEACH for a while, before implementing any consequences. I would show my toddler over and over and over what I was wanting from him.
-It is so important to come up with YOUR PLAN and consequences. What do you feel comfortable with? What's your parenting style? What does your child respond best to?
-Remember, my child may respond differently than yours.
-The behaviors I listed below are about showing my child what I expected of him. In the days following, I implemented age-appropriate consequences when needed.
-My advice is to start with just a couple of behaviors at first and be consistent with your training…EVERYDAY.
-It will get annoying for you, having to consistently tell your toddler over and over and over what is expected. But, it works! (As a public school teacher, this was the best way my kids learned. By me, the teacher, being super repetitive!)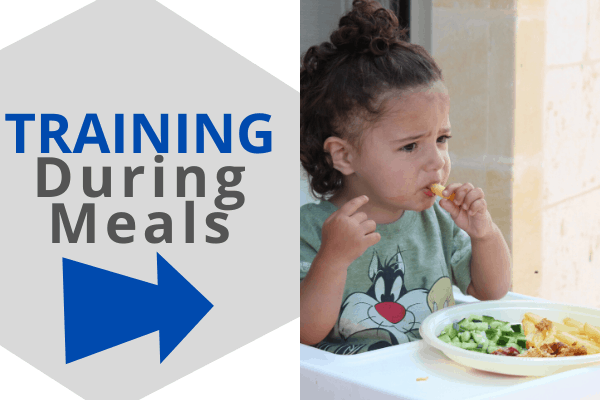 During Meals: Throwing Food
Undesired Behavior: My son throws food he does not want onto the floor.
Replacement Behavior: For my son to instead say or use sign language to signal he is "all done" when he is finished eating. If there is something he doesn't want to eat, he can set it to the side of his tray.
Teaching Him to Obey: First I explained to my son what I wanted from him. I also told him throwing food on the floor was a "no". Instead of giving him his entire plate of food at once, I gave him one or two pieces of food at a time and sat right next to him.
As soon as he made the motion like he was about to throw something, I caught his hand and made him put the food down onto the side of his plate. I warned him saying "That is no. We do not throw our food. Put it here".
The next time he tried to throw his food, I again reminded him "This is no. Do not throw your food. Put it here." while I guided his hand to put the food on his tray.
After I guided his hand to put the food to the side of his tray, I praised him! I told him "thank you" and that he did a good job! Make sure to use LOTS AND LOTS OF PRAISE when your child does something correctly, even if you are guiding them to do it with your own hand.
*After showing him what I wanted for several days, I added consequences to continue the correction. Do what works best for your family.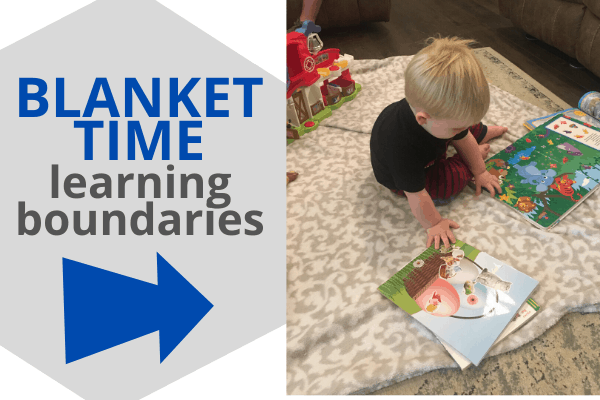 Undesired Behavior: My son has no concept of boundaries. He does not know what it means if I tell him he can't go in a certain room or even into the road!
Replacement Behavior: We want our son to stay in a different area and not run towards the off-limits area that we told him "is no".
Teaching him to Obey: We are teaching our son about boundaries using "blanket time".
I took a throw blanket and put it on the floor. I put several toys and books on top of the blanket for him to play with.
Next, I held him and pointed to the middle of the blanket saying "this is yes". Then, I pointed to the floor on all four sides outside the blanket and said: "This is no" four different times. So I pointed to the floor on one side of the blanket and said "this is no", then to another side and said "this is no", for all 4 sides.
I sat my toddler down on top of the blanket and I sat just off to the side of the blanket. Every time my toddler tried to run off the blanket, I set him back down on the blanket and said: "this is yes".
I had a timer set for 5 minutes. I praised my toddler whenever he was playing on the blanket.
Until he gets the hang of it, I'll interact with him while he's on the blanket. I'll play with toys with him and read him one of the books, all while constantly praising him if he's on the blanket. Eventually, the goal is to be able to leave the room for a minute and he will stay put without me right there beside him.
My toddler tried to run off of the blanket several times when I did this. I corrected him by putting him back on the blanket and praised him when he was sitting on it again. Then I repeated which areas were "yes" and which were "no".
Your toddler might cry or pitch a fit as you keep putting them on the blanket. Just keep praising them for being on the blanket, even if/while they are crying. Pick up toys and try to interact with them. When the timer goes off, tell them they are "all done" and repeat the process again tomorrow. It gets better, I promise. You can even start with 2 or 3 minutes.
*After showing my toddler what I wanted from him for several days, I added in consequences to continue the correction. Do what works best for your family.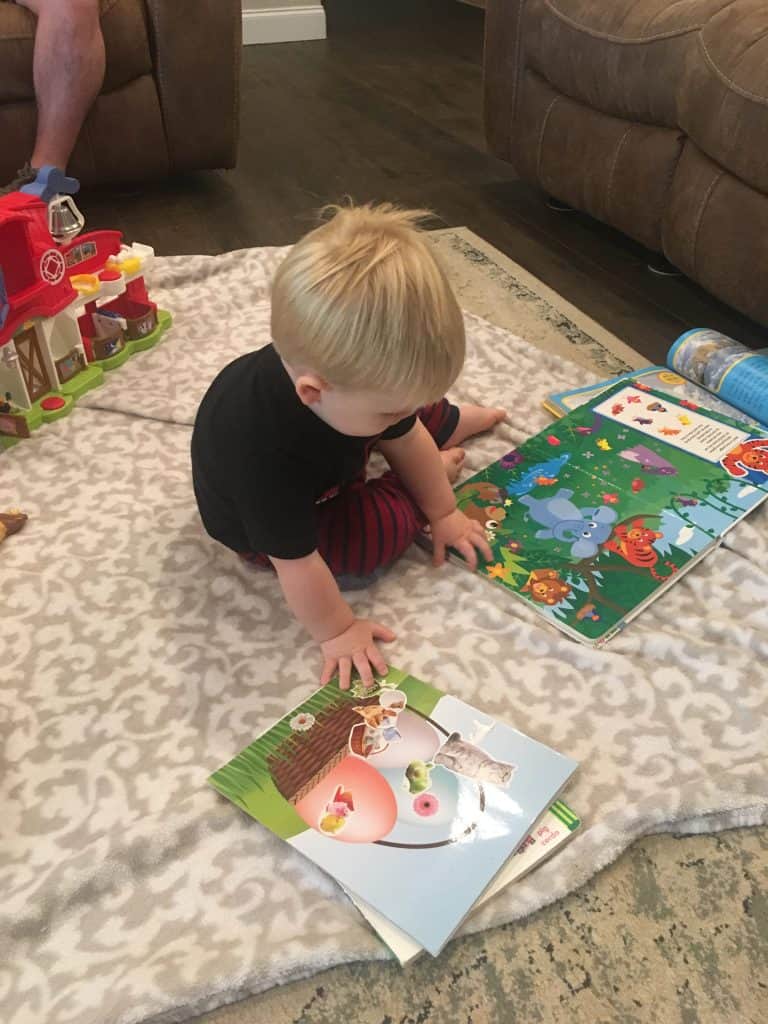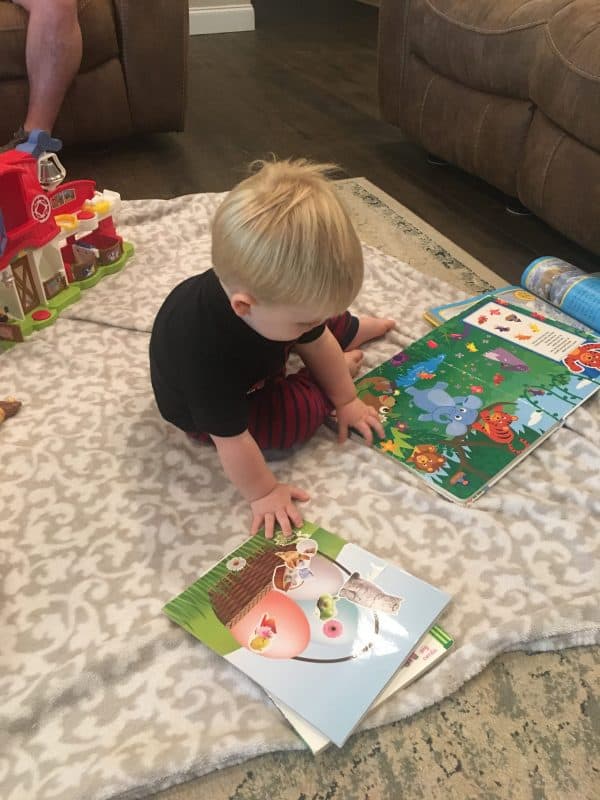 Example of Blanket Time
This is something I want to try to do every day. I am establishing "this is yes" and "this is no". He is learning boundaries and where he can and cannot go without permission.
Plus, it's only for five minutes so it would be easy to squeeze into our daily routine.
Eventually, the goal is to be able to point to the road and say "this is no" and he will understand what that means. But, of course, I will always still be within arms' reach because toddlers don't always listen, even with the best of training!
I also would suggest using the same blanket for blanket time each day and use it only for blanket time in the beginning. My toddler got confused when I put the blanket on the couch later that day. He thought it was "blanket/quiet time" again when I was trying to give him a soft spot to watch a movie.
I linked a blanket below that is similar to the one we use.
Comfort Spaces Sherpa/Plush Throw Blanket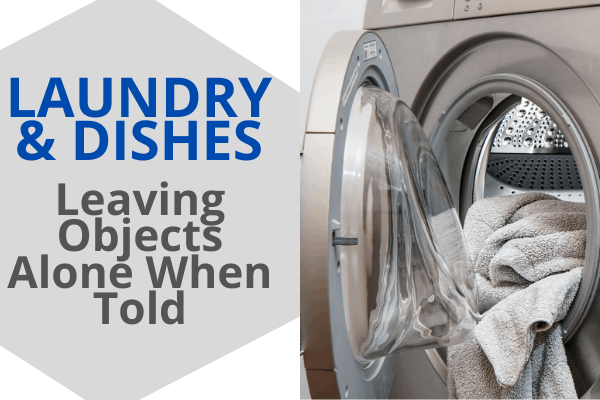 Laundry & Dishes: Leaving Objects Alone
Undesired Behavior: My son tries to take the dishes out of the dishwasher if I have it open. The same with the dryer. He is either trying to climb in it, take things out of it, or shove toys in them.
Replacement Behavior: To not touch the dishwasher or dryer. He can stand and watch me, but not to touch either appliance without permission.
Teaching him to Obey: Usually, I do the laundry or load/unload the dishwasher in the morning while he is eating breakfast.
But since I am sitting and keeping a careful eye on him while he learns he can't throw food on the floor, I'm not able to get these things done when I usually do.
So that means when I was working on the dishes and the laundry, he wanted to be right with me. I told him "no touch" and took his hand off of the dishwasher the first time. He continued to try to touch it, so I kept repeating myself and removing his hand.
I praised him when he was standing next to me and not touching the dishwasher or the clothes in the dryer. Eventually, he got tired of hearing "no" and went and played in his playroom!
*After showing him what I want for several days, I added consequences to continue the correction. Do what works best for your family.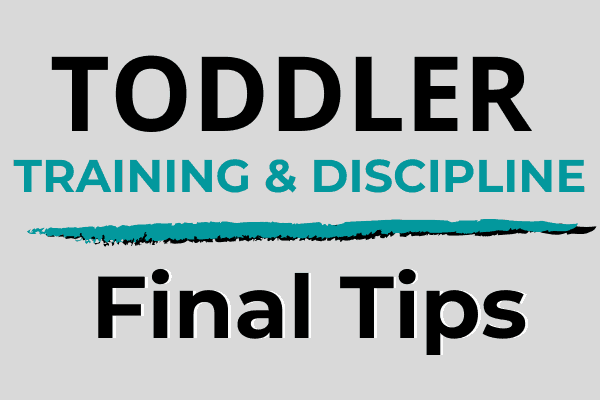 The First Day of Toddler Discipline Tips:
-Do what is best for your child, there is not a one-size-fits-all solution for discipline!
-Remember PRAISE, PRAISE, PRAISE, when they make good choices!
-You need to be CONSISTENT so your child doesn't get confused. Don't give consequences only half the time for the same behavior.
-Be on the same page with your spouse!
-Use whatever age-appropriate consequences you agree with.
-And most importantly, this parenting style isn't for everyone. So, please move along if this offends you. I promise I am not forcing you to do this with your child. This works for us and our son is completely cherished and adored, even though we do tell him no sometimes.
For More Information on Toddler Discipline
It's just the first day of child training and I know it's going to take a while to see significant improvement.
Today I am thankful for the small wins like not having food on the floor after a meal. Although our dog is not as happy about it.
There are so many ways to deal with your child's behaviors. This is just what I'm doing now, it will evolve and change.
I hope the first day of teaching my child to obey and my tips on toddler discipline are helpful for you and your little one too!
*This post has become pretty popular and I've been sent many great questions! I wrote an additional post linked here, explaining how we addressed my son running away when asked to come to us, teaching him to walk instead of run, and hitting others. It also covers some of my most frequently asked questions since starting this child training and toddler discipline journey!
If you are interested in practical tips to guide your toddler to becoming a kind human and one day develop a strong work ethic, check out this post.
Since all children are different, a great resource is a book called Parenting a Strong-Willed Child. It is a 5-week program for parents of kids 2 to 6 years old. It elaborates on specific behavior issues and the different factors to consider to decide what discipline is best for each of your children. What I do with my toddler, may not be what's best for yours. This book has many more suggestions than I gave in my blog posts!
Parenting the Strong-Willed Child: The Clinically Proven Five-Week Program for Parents
Or you could get this book for free by signing up for a 30 day free trial with Audible! Just for trying Audible you get 2 free Audiobooks, and Parenting a Strong-Willed Child is a book you can choose from. Listen to the book anytime and anywhere! Great for listening in the car!
Great Questions on Toddler Discipline:
"Is it OK to yell at a 2 year old?"
You are your child's example. Do you want your child yelling when they are upset? Do not discipline out of anger. Take a deep breath, count to 10, and then regroup when you are frustrated yourself. Do not yell at your children unless they are in immediate danger. For example, if your toddler is walking up to a snake in the yard, etc and you need their attention right away for their own safety.
Instead of yelling, try getting down to your toddler's level and making eye contact. Then, you can have an assertive voice that shows your toddler you are giving them directions, without screaming or yelling. If they still aren't following directions, give a consequence.
"How Do I Discipline My 2 Year Old Toddler?"
Toddlers understand much more than we give them credit for. It is important that you repetitively teach your child what you are expecting from them. Then be consistent with age-appropriate consequences. I give examples of consequences for toddlers in this post.
"What is the Most Effective Method of Discipline for a Toddler?"
The most effective method of toddler discipline is repetitively teaching your toddler over and over again what you expect from them. Give your toddler lots of attention, give your toddler praise when they are following directions, and correction when they are not following directions.
Correction looks like, you asked your toddler to sit down and your toddler continued to stand. You get your toddler's attention, make sure your toddler is making eye contact with you. You ask your toddler to again sit down. If your toddler does not sit down, you gently help your toddler sit and give your toddler lots of praise by saying something like "thank you so much for sitting!". Even though you had to help them follow the direction, your toddler is still doing what you asked.