*This post may contain affiliate links, please see full disclosure for details.
Are you pregnant and wondering "what to wear after giving birth"? Whether you have a C-section or vaginal birth, if you get hot from hormonal night sweats, or are like me and are freezing in the hospital, there will be something on this list you'll love!
You are going to want clothing that is comfortable and has easy boob access if you plan to breastfeed. And it's an awesome bonus if the clothes are comfortable AND cute for any pictures you may take with your precious little babe.
These suggestions for what to wear after giving birth are great for the hospital as well as when you are recovering from childbirth at home.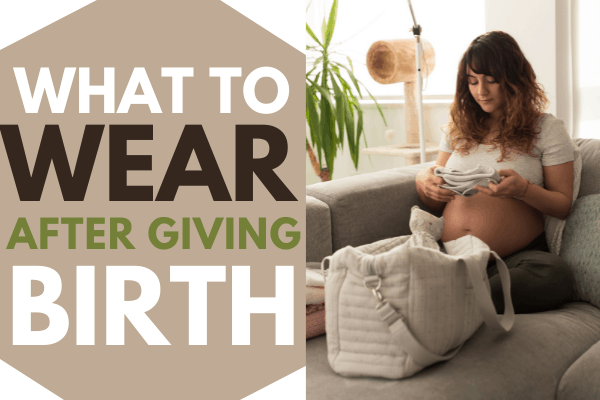 Postpartum Bras for Childbirth & Breastfeeding
You are going to want a bra that is comfortable and allows you to get to your boobs easily if you are breastfeeding. You could even start wearing them during pregnancy. Your regular bras probably aren't fitting as well right now anyway.
These nursing bras come with bra extenders that easily clip onto the bra strap to give more room as you are growing. I had the bra extender on there while I was pregnant and after childbirth, and removed it as I started to lose weight over the next year.
Women's Full Cup Lightly Padded Wirefree Maternity Breastfeeding Nursing

They also LAST, I've used the same nursing bras for both children and breastfed them each for over a year. Since I washed them so many times, the removable cups did get pretty worn, so I bought some replacements recently which were a lot less expensive than having to buy new bras.
Postpartum Underwear
You definitely want to wear the mesh underwear the hospital gives you while you are there. You will have a giant diaper-sized pad in there and maybe even an ice pack. You don't want your diaper-pad to shift and get your underwear all soaked in blood.
Wear the mesh underwear and throw them away if something gets on them. Ask for a few extra pairs of mesh postpartum underwear when you leave and wear them at home while you are still bleeding heavily.
When you are ready for real underwear, you want these. They are the best postpartum underwear and are so soft and supportive. Your stomach may still be a little sore and the light pressure feels amazing on your postpartum belly.
UMMISS Womens Underwear,Cotton High Waist Underwear

They come in several great colors and hold up well in the washing machine after being washed over and over.
If you had a C-section, you'll want underwear that won't rub against your c-section incision. This underwear comes up high enough that it won't interfere with your incision and it offers compression if needed to hold a thick bandage in place.
Cauniss Womens High Waist Cotton Panties C-Section Recovery

Cute and Comfy PostPartum Pajamas
There are going to be pictures taken of you when you are holding that new adorable baby. I'm not one of those people that packed makeup or any hair care products to go to the hospital. My mindset was on comfort and comfort only.
Looking back on pictures, I thought "ugh, I wish I would have packed something that was comfy AND cute". You still won't see me wearing makeup for several months after childbirth, but I am a huge supporter of finding adorable outfits that are still comfortable and affordable.
Floerns Women's Notch Collar Short Sleeve Sleepwear

Ekouaer Women Short Sleeve Strips Nightwear Shirts Shorts Pajama Set Sleepwear

Ekouaer Women's Sleepwear

These pajamas are so cute and soft. You can buy them in shorts or pants. The shirt has buttons that allow you to breastfeed your baby easily. The pajamas come in lots of different colors, my favorite is black. The black is easy to pair with a matching robe too, but more on cute robes in a little bit.
Postpartum Outfits: Sets, Dresses, and More!
You are going to want loose maternity tops and sweatpants after giving birth. These are postpartum clothes sets that can be found on Amazon that are comfortable, cute, and easy to breastfeed in.
Ekouaer Women Long Raglan Sleeve Maternity Pajamas Set Baseball Nursing Breastfeeding Sleepwear Capri Set

Ekouaer Sleepwear Womens Soft Striped Maternity & Nursing Pajamas Shorts Sets Breastfeeding Sleepwear

Ekouaer Women's Maternity Nursing Pajamas Set Soft Short-Sleeved Button Tops PJ Pants Sleepwear Set

Ekouaer 3 in 1 Maternity Pjs Set,Nursing Top,Adjustable Pregnancy Shorts

Pregnancy, Labor, or Nursing Nightgown:
Nightgowns are also a great option for what to wear after giving birth because it's easy when you are going back and forth to the bathroom changing pads, icepacks, etc. These cotton nightgowns also have a place where you can pull it over to easily breastfeed!
Ekouaer Nursing Gown 3 in 1 Delivery/Labor/Nursing Nightgown Women Maternity Hospital Gown Zipper Breastfeeding Sleepwear

Motherhood Maternity Women's Maternity Lace Trim Nursing Nightgown, Black/White dot, Small

Flip Flops, Socks, and Slippers
For both of my children I wore my favorite flip flops to the hospital and they are the only shoes I needed. I'm hot natured and like for my feet to be cool.
These flip flops will LAST. I've had mine for 15 years and I wear them every Summer. They mold to your feet as you wear them and are so comfortable. Also when you are pregnant or sore from childbirth, they are easy to slip on.
Rainbow Sandals Women's Single Layer Premier Leather Narrow Strap, Black, Ladies

However, if you are looking for something warm, check out these socks and slippers. The socks have little grips on the bottom of them to keep you from sliding around when you walk. The slippers are so warm, cozy, and comfortable and have over 35,000 good reviews on Amazon!
Non Slip Yoga Socks for Women, Anti-Skid Gripper Socks

Jessica Simpson Women's Comfy Faux Fur House Slipper Scuff Memory Foam Slip on Anti-Skid Sole, Black

Matching Robes & Swaddles
You've probably seen the mom and new baby matching robes and swaddles on social media. I think this is an adorable trend and the pictures are so adorable.
These sets will have something for you whether you are a fan of the exact same pattern or colors that complement each other but aren't exactly the same. There are florals as well as solid colors or stripes.
Baby Be Mine Maternity Mommy & Me Delivery Robe with Matching Baby Swaddle Blanket & Hat Set

Plus having a robe is practical to quickly cover if needed if you are breastfeeding often with people in and out.
Postpartum Belly Wrap and Girdles Postpartum
A lot of women swear by postpartum girdles or belly wraps after childbirth. They claim to reduce swelling, support core abdominal muscles and return your uterus to its original size sooner. Some of them have support for your lower back as well.
I had a belly band that I wore for a few hours in the hospital after childbirth. It felt good to have the support and seemed like it was holding everything in place. However, it wasn't something I wore for very long because I didn't like laying around in it.
3 in 1 Postpartum Support – Recovery Belly/waist/pelvis Belt Shapewear Slimming Girdle, Beige

Maternity Belt 2.0 – Belly Band for Pregnancy, Two in One Pregnancy Belt for Your Entire Pregnancy and Postpartum Recovery

This is a personal preference and whatever you choose for you is the right choice. Your body will heal and shrink on its own without it.
"What to Wear After Giving Birth" FAQs:
"What Should I Wear After Having a Baby?" or
"Should I Wear Maternity Clothes After Delivery?"
Wear something COMFORTABLE! It's hard to predict if you are going to be hot or cold while in the hospital after childbirth, so pack a nightgown or shirt/shorts, as well as pants and a robe. You will want something loose and easy to breastfeed in, that is if you plan on breastfeeding.
"What Should I Avoid After Giving Birth?"
When deciding what to wear after giving birth, avoid clothes that are going to be tight and restrictive. You are going to have lots of hospital staff coming into your hospital room to monitor you. There will be IVs, blood pressure cuffs, a nurse coming to mash on your stomach, etc. Plus if you are breastfeeding, you'll need to have easy boob access.
You'll also be bleeding for a few days with your giant pad and mesh underwear postpartum. So think twice about packing your tightest leggings because you'll need a diaper-sized pad and maybe an ice pack to fit in there.
"Do You Wear a Bra during Labor?"
This seems to depend on the hospital. With both of my boys, I was told to take mine off. However, plenty of my friends wore bras underneath their hospital gowns while giving birth. Ask your doctor or midwife at your next appointment so you decide which one you want to wear. This is a great one if you are looking for one to wear during labor. You'll want one that is easy to breastfeed in when baby is born.
"Can You Wear Leggings After Childbirth?"
You can certainly wear leggings in the hospital after childbirth if you want. However, consider that you need something that will fit your giant pad and ice pack. Some people prefer the support leggings give to your stomach and vagina after childbirth. Like the leggings are gently holding everything back in place.
So yes, leggings can be a great thing to wear after childbirth, just make sure they are loose enough to get up and down when you are still sore and going to the bathroom and have enough slack in the crotch area to fit everything that will need to go in your mesh underwear as you are bleeding and healing.
"What to Wear After Giving Birth for Your Stomach?"
Some people swear by postpartum belly bands or a postpartum girdle. They claim to
"Going Home Outfit for Mom" or
"What to Wear Home from Hospital after Birth?"
At the hospital I delivered my boys at, the babies wear little ankle monitors that go off if anyone comes close to the elevator or stairs with your child. This is a safety precaution and the monitor only comes off once baby and moms bands are matched and you are being discharged to go home with your baby.
I really appreciate this safety measure, but it makes it difficult to dress your baby while in the hospital. You can't zip the footie sleepers up over the monitor. My favorites outfits for baby to wear at the hospital are baby gowns. It makes it very easy to change their diaper during the night and you aren't fumbling around while exhausted trying to fasten snaps.
However, you can't put a baby in a car seat wearing one of these gowns because the straps have to go between their legs. So pack a few baby gowns, but also a going-home outfit for the car. As well as a backup going home outfit for the car in case spit-up or poop happens before you actually get to the car.
"What to Wear To Hospital for Delivery?"
You are going to be given a hospital gown whenever you are checked in to the hospital. So wear something you will be comfortable in for the registration process until you get settled into your hospital room and changed. Depending on the hospital, you may be allowed to wear your bra during childbirth, so go ahead and wear the bra you want to wear for childbirth to the hospital.
I wore flip flops to the hospital because I hate for my feet to be hot and they are easy to get on and off. Before my epidural, I would go back and forth from pacing around to laying down and they were easy to slip on and off and the tread on the bottom is good so I wasn't worried about slipping as I was doing my laps around the hospital room.
"What to Wear When Giving Birth?"
You'll be wearing a hospital gown and possibly a bra depending on if your hospital allows for you to wear one.
"What to Wear After Giving Birth" Conclusion:
I hope you found at least a few things that help you decide what to wear after giving birth whether that is while you are at the hospital or when you are at home. This can be after a vaginal delivery or c-section.
And also CONGRATULATIONS on your sweet baby! What a joy and blessing the miracle of life is. Those first few days and weeks are so wonderful, but can you also be exhausting. Check out this post on tips for those exhausting first days with a newborn on how to find time for sleep.
Amazon Baby Registry: Why You Need One ASAP
All of these amazing options for "what to wear after giving birth" can be found on Amazon. You definitely need to add some of these things to your Amazon Baby Registry. Your friends and family might just surprise you and buy some of these cute and comfy clothes for you when they are also shopping for your new baby!
If you haven't created a baby registry with Amazon. Here are lots of reasons why you should.
-Universal Registry: add items from ANY website, not just Amazon
-Largest Selection: You won't find a bigger selection of baby items anywhere else
-Mobile Selection: You can update your baby registry right from your phone. There is a very easy-to-use app!
-Return Policy: A much longer return policy than other places with easy 90-day returns, and sometimes even longer than that.
-Completion Discount: You get 10% off across Amazon, and 15% off for Prime Members
-Fast, Free shipping on orders over $25 or free for any amount if a Prime member
-A free Welcome Box for the parents with baby items valuing up to $35 with things you'll actually use!
-Diaper Discount: 20% off diapers for the first year if $500 worth of products are bought off the registry
While you are creating your Amazon Baby Registry, check out these posts for other must-have baby items you'll love!
–Baby Bassinets: to have baby sleeping safely next to you during those late-night feedings
–Burp Cloths: for those spit-up messes to stay on these cloths and not on your and your baby's clothes
–Halo Swaddles and Sleepsacks: you won't find easier swaddles than these from Halo, just zip and velcro!
–Baby deedee Warm Baby Clothes: these baby clothes are so cozy and warm with a between-the-legs-zipper for easy diaper changes!