*This post may contain affiliate links, please see full disclosure for details.
If you are looking for personal Halo Sleep Sack Reviews from a mom that has actually tried them with her baby AND toddler, you've come to the right place! Halo Sleep Sacks come in 5 different styles: Swaddles, Easy Transition, Wearable Blankets, Early Walker, and Big Kids.
The Halo Sleep Sacks range in size from birth to 5 years old. They eliminate the need for loose blankets that can be dangerous for infants and small children. We have an infant and a toddler, and between our 2 children, we have used all 5 types of Sleep Sacks! This post includes our halo sleep sack reviews on all 5!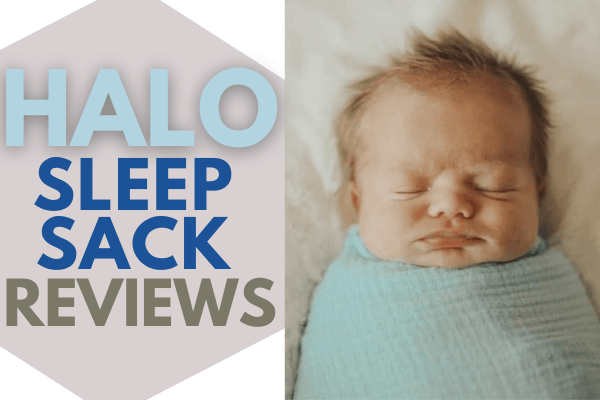 "What does TOG mean on halo sleep sacks?"
You will see we reference the sleepsack's TOG in our reviews. Let us explain what that means! A TOG is a unit of measurement used to calculate warmth, or thermal resistance, of a product. It is important to check the sleep suit's TOG to calculate the warmth of the sleep sack based on your toddler's room temperature. Below is the TOG chart that can be found on Halo's Website for their products.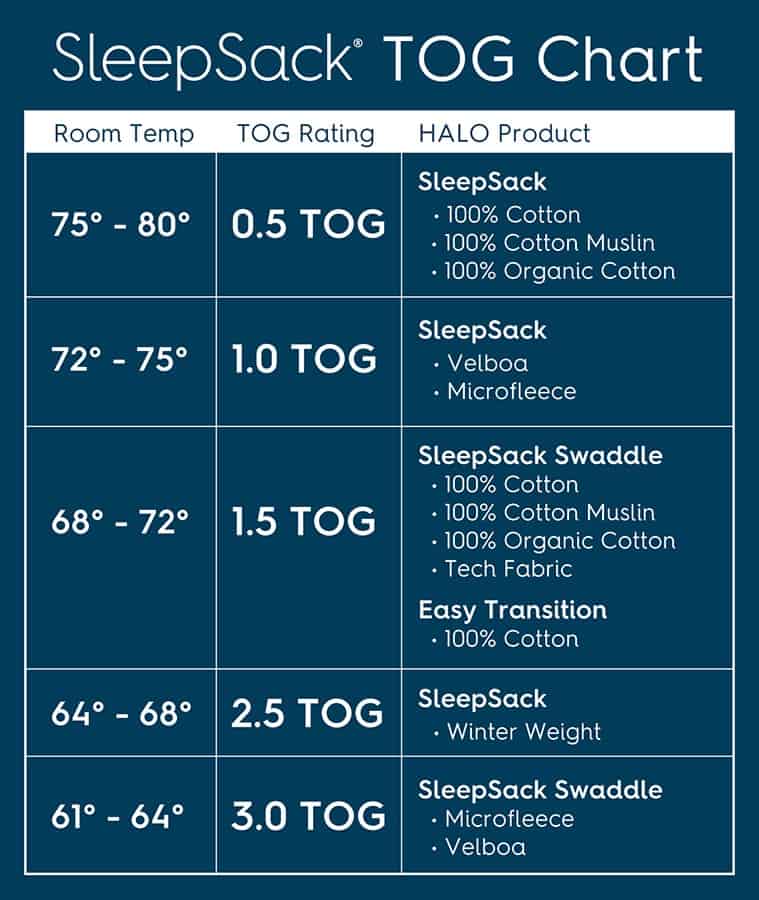 Halo Sleep Sack Reviews
1. Halo Sleep Sack Reviews Swaddles
Our infant currently uses the sleep sack swaddle! What drew me to buying a Halo swaddle was the ability to swaddle your baby with OR without their arms swaddled. You can even swaddle one arm and leave one free.
Both of our children preferred not to have their arms swaddled but still enjoyed the snugness the velcro wings provide. Our babies would cry and fight to break out of other kinds of swaddles until we freed their arms. Below is a list of other things we love about the Halo SleepSack Swaddles.
HALO Sleep sacks Swaddle: Cotton Muslin
100% Cotton
Micro Fleece
Dot Velboa
Many Different Fabric Types: Depending on the temperature of your child's room will decide how warm you need your baby's swaddle to be. It comes in conventional or organic cotton (1.5 TOG), cotton muslin (1.5 TOG), micro-fleece (3.0 TOG), and dot velboa (3.0 TOG). We use the organic cotton swaddle because our baby's room is around 76°!
Easy Diaper Changes: Most sleepsacks have inverted zippers. But with this Sleep Sack Swaddle, you can unzip the sleeper sack from the bottom to change a diaper while baby's upper body and arms are still snug inside the swaddle. Unzipping the bottom does not affect how snug the top is. My son has even slept through some of his diaper changes.
Swaddling Made Easy: We have 2 children and have still never learned how to swaddle using a blanket. It can be complicated trying to remember all those steps. However, these Swaddles are SO EASY. All you do is zip it up and then velcro the swaddle wings across your baby. All you have to figure out is how snug your baby likes the wings to be.
Includes Sizes You Won't Find Anywhere Else: You are not going to find a sleep sack that allows your newborn baby to be swaddled with their arms out anywhere else. Halo also has brand new sleepsacks specifically for Preemies! Halo's size chart is listed below. We currently have the Newborn and size Small Swaddle!

2. Halo Sleep Sack Reviews Easy Transition
This type of Halo sleepsack is probably my least favorite. We bought it and tried it on my youngest child recently but ended up returning it. The unique sleeve design is supposed to help control a baby's startle reflex making the transition from a swaddle to a wearable sleep sack easier. This product's TOG is 1.5 which is too warm for our baby's room, so it was not a good fit for us. However, it may be perfect for your baby so I've listed more information below!
HALO Easy Transition Sleepsack
Helps to Transition out of Swaddle: It is lightly quilted with protective sleeves in 4-way stretch cotton. The sleeves are designed to help settle baby's startle reflex since their arms are not swaddled.
Easy Diaper Changes: Inverted zippers allow you to change your baby's diaper without taking them out of the sleepsack.
Color Choices: Comes in 3 different colors- navy, grey, and pink
TOG Rating: It has a 1.5 TOG rating and is perfect for baby's rooms that are between 68°-72°
Age and Sizes: The Halo Transition Sleepsack is for babies 3 to 9 months. See the size chart listed below for more accurate sizing. The size chart is from Halo's website.

3. Halo Sleep Sack Reviews Wearable Blankets
These wearable blankets are our favorite out of the 5 types. It is what we used for the longest amount of time with our oldest son. He would get hot easily during the night so the sleeveless design was perfect for him. We bought several different colors in the same size so if he spit up or his diaper leaked in the night, we had another one for him to wear.
So we went from the swaddle, straight to these wearable blankets. There are 4 different materials to choose from but we use the 100% cotton. Our youngest son will be wearing his big brother's old sleep sacks when he grows into them. They last a long time, even through spit up/pee/poop and a whole lot of time in the washing machine.
HALO Sleepsack Wearable Blanket: 100% Cotton
100% Cotton Muslin
Micro-Fleece
Dot Velboa
4 Different Types of Fabric: These wearable blankets come in 100% cotton (0.5 TOG), 100% cotton muslin (0.5 TOG), Micro-Fleece (1.0 TOG), and Velboa (1.0 TOG). We use the 100% cotton sleeper sac and love it. During the Summer our son wears only his diaper underneath and during the winter he wears long sleeves underneath. Choose the material and how to dress your baby underneath it according to room temperature.
Easy Diaper Changes: Inverted zippers allow you to change your baby's diaper without taking them out of the sleepsack
Color Choices: Comes in MANY different colors and patterns. Our favorites are the solid colors.
Age and Sizes: The Halo Sleepsack Wearable Blankets are for babies 0 to 24 months. You can start your child in this and skip right over swaddling! See the size chart listed below for more accurate sizing. The size chart is from Halo's website.

4. Halo Sleep Sack Reviews Early Walker
Once our toddler started pulling and standing up in his crib, we switched out his wearable blanket to this Early Walker sleepsac. He fell in his crib a couple of times when he stood up wearing the wearable blanket described in #3. When he fell he hit his head on his crib and we knew we had to find something else.
The Early Walker is designed for kids ages 6-24 months and allows baby to sleep safely because it can't be kicked off or tangled like a blanket. It also allows for mobility with foot openings, so your little one can still pull up, stand, and walk while wearing it. Our toddler sleeps much better wearing a Halo Sleep Sack. He used to wake up in the middle of the night because he was cold. It solved our problem without the risk of giving him a blanket to sleep with.
HALO Early Walker 100% Poly Knit
HALO Early Walker Micro-Fleece
2 Different Types of Fabric: These come in 100% polyester (0.5 TOG) or Micro-Fleece (1.0 TOG). We use the 100% polyester option for our toddler.
Easy Diaper Changes: Inverted zippers allow you to change your child's diaper or pull up without taking them out of the sleeper.
Warm & Mobile: The combination of keeping your baby warm AND allowing them the freedom to walk around is what makes this product so wonderful. It still gives the blanket-like feel without the fear that they are going to trip and fall as if they were wearing the wearable blankets listed earlier. No more worrying your baby will cover their face with a blanket or having to go back and cover them up after they've kicked a blanket off of them.
Age & Sizes: These range in age and size from 6-24 months. The smallest starts at 16 pounds and the largest go up to 36 pounds. See the size chart below that comes from Halo's website.

5. Halo Sleep Sack Reviews Big Kids
These Halo Sleep Sacks are the same as the Early Walker in #4 except it comes in bigger sizes for older children! It also comes in polyester (0.5 TOG) or fleece (1.0 TOG). The Big Kids sleepsacks are for children 2-5 years old ranging from 25 to 50 pounds! The size chart is listed below.
We have the smallest size for our 3-year-old. He looks so adorable when he is walking around the house wearing this sleepsack before bed. He sleeps better while wearing one because he's not kicking off his blanket and is able to stay warm throughout the night. We bought a polyester one. It is comfortable and not too thick. We wrote a blog post on all top brands of Toddler Sleep Sacks here if you would like to compare these to others.
HALO Big Kids Polyester
HALO Big Kids Fleece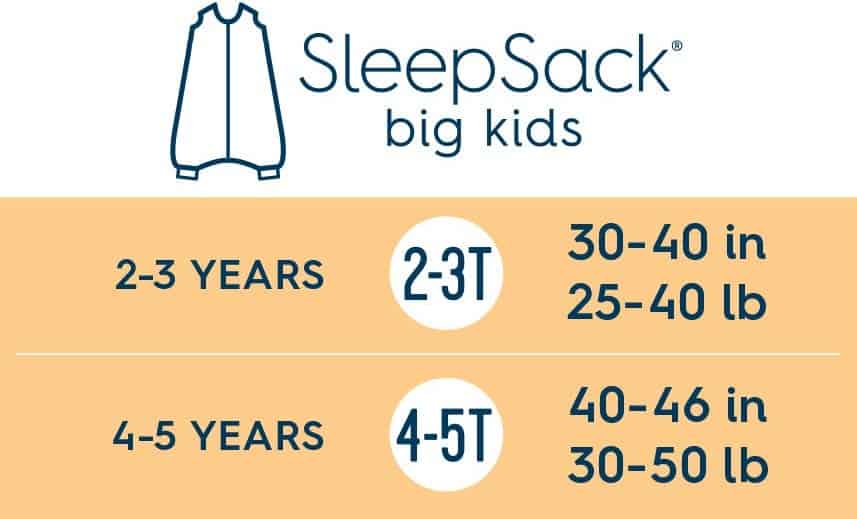 FAQ's Related to "Halo Sleep Sack Reviews"
"Are sleep sacks safe for babies?"
Sleepsacks are made to replace loose blankets and are recommended by the CDC to use. Here is the information from the CDC's website. "Keep soft bedding such as blankets, pillows, bumper pads, and soft toys out of your baby's sleep area. Additionally, do not cover your baby's head or allow your baby to get too hot. Some parents may feel they should add sheets or blankets to their baby's crib to help keep their baby warm and comfortable while sleeping. However, sheets, comforters, and blankets can increase the risk of suffocation or overheat your baby. If you're worried about your baby getting cold during sleep, you can dress them in sleep clothing, like a wearable blanket. In a recent Pediatrics report, CDC scientists and colleagues found that infant suffocation deaths during sleep were most frequently due to soft bedding, such as blankets and pillows."
"Is baby warm enough in sleep sack?"
You need to buy a sleep sack with a TOG that matches the temperature of your baby's room. Your pediatrician will probably tell you to put one more layer on your baby than you put on yourself. Our children wear just their diaper under their sleep sack during the Summer, and a onesie underneath their sleep sack during the Winter.
A good way to check to see hot or cold your baby is, is to place your hand on their chest. It should not feel hot or cold to the touch. Halo's website says your baby can still wear their regular sleep clothes underneath their sleepsack. However, overheating can be fatal for your baby so make sure not to put on too many layers.
"How long can baby wear sleep sack?"
Your baby does not need to wear the swaddle sleepsack after he/she shows signs of rolling over or trying to break out of the swaddle. For the other Halo sleepsacks, they grow with the size and mobility of your child and go up to 5 years old and 50 pounds.
"What should a baby wear under a Halo sleep sack?"
It depends on the temperature of the room they are sleeping in. Your baby can wear just their diaper underneath, a onesie, or even up to a sleeper underneath.
"Should babies wear onesies under sleepers?"
It depends on the temperature of the room they are sleeping in. Some babies are okay to sleep in just a diaper underneath. For colder rooms, you may want to even put them in a sleeper underneath their onesie.
"Can my baby sleep in a fleece sleepsuit?"
You should only have your baby sleeping in a fleece sleepsuit if the temperature of the room they are sleeping in is between 61° and 64°.
Halo Sleep Sack Reviews Conclusion
Halo is such a wonderful company and I would encourage you to read the story of how they got started here. We love all of their products because they are such great quality and the emphasis they put on safety is above all others. We encourage you to also check out their Halo Bassinet that we reviewed here.
Additional Resources on Safe Sleeping:
Put Halo Sleep Sacks on Your Amazon Baby Registry:
These sleepsacks are all available on Amazon and would be great to add to your baby registry! Go here to create an Amazon Baby Registry. Amazon registries include a FREE Welcome Box with baby items valuing up to $35, a 10% completion discount (15%for prime members), you can add items from ANY website, there's a 365-day return policy, and 20% off diapers for baby's first year if $500 of products are bought from your registry! Amazon is THE BEST.