*This post may contain affiliate links, please see full disclosure for details.
Are you asking yourself "How Many Baby Bottles Do I Need?" then please read the answers I've listed because they aren't what you'll find elsewhere and that may surprise you. Let me explain.
It can get overwhelming once you start adding things to your registry for your baby. There are endless amounts of baby products to choose from, and then you have to determine how many you will need of each. When it comes to baby bottles, I've been a bit surprised at the conservative number others are suggesting when taking into consideration how many bottles I currently am using with my own baby.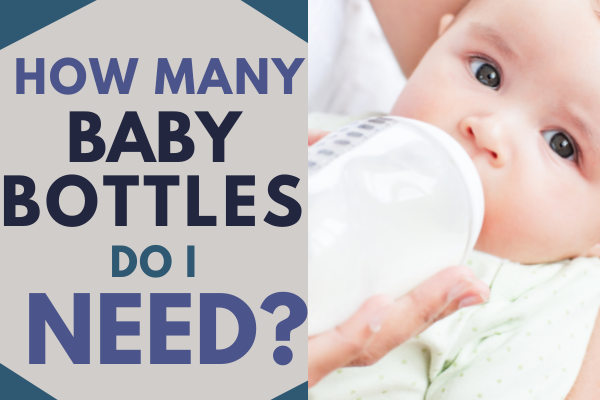 "How Many Baby Bottles Do I Need"
Baby center suggests 3-4 baby bottles if you are breastfeeding, and 8-10 bottles if you are bottle feeding. I'm shocked at these numbers. I am currently breastfeeding/bottle-feeding my baby and would suggest more than 3-4 and I'll explain why.
My suggestion would be if you're breastfeeding to have at least 5-10 bottles, and if you are bottle-feeding to have 10-15 bottles.
I use a bottle if I go somewhere without my baby, to pump breast milk into when needed, and if I just want to sleep for a few hours during the night and my husband gives a breastmilk bottle to the baby while I get a little more sleep.
We also have a toddler. So I am not right at the sink washing bottles as soon as they are used. I wash dishes once a day usually after I put the kids to bed.
I also am a realist when it comes to mom-life. I forget bottles places sometimes. I sometimes accidentally leave the empty bottle in the car overnight after our earlier outing. Yesterday I couldn't find a bottle I recently used, and hours later I found that my toddler had kicked it underneath our couch.
So even though I mostly breastfeed, if you only give me 3-4 bottles, I'll have to be washing them often or scouring the house after I've used one to see where it last went.
The same concept goes for bottle feeding. Once I went back to work, I was pumping and my baby was getting bottles throughout the day. Sometimes it was a couple of days before I had the time to wash and sterilize all bottles, luckily I had extra.
Things to Consider When Determining "How Many Baby Bottles Do I Need?"
Breastfeeding vs. Bottle Feeding:
If this is your first child, you have no idea how breastfeeding is going to go for you and your baby yet. Are you going to produce enough milk? Are you going to produce too much milk? Will your baby latch easily?
I had the intention of exclusively breastfeeding when pregnant, however, I didn't know I was going to overproduce breastmilk. I was able to "catch" extra milk in bottles and then freeze it in bags for when I went back to work(Learn more about that here). Thankfully, I had extra baby bottles I had registered for!
Or you could have every intention of breastfeeding but due to numerous reasons, it may not work out. In that case, you'll want to already have enough baby bottles on hand.
Cleaning and Sanitizing Bottle for Baby:
Are you planning on cleaning each bottle right after you use it? Kudos to you if you are. But if you or your husband are using a bottle during the middle of the night, you probably don't want to wash it right away. You want to feed that baby and go back to bed. And during the newborn season, there will be several middle-of-the-night feedings.
Caregivers Giving Baby a Bottle:
Will you be going back to work? Will someone else be caring for your child during some part of the day? When I went back to work, I'd pump directly into bottles while I was at work, and that milk was given to my baby the next day. So I always needed a set of bottles to pump directly into and a set that went with my baby each day.
Baby's Bottle Types:
Some babies may take any kind of bottle easily. However, there is no way to determine what your baby will prefer until your baby is born and you are trying them out. I suggest buying 2 different types of bottles, to begin with so if one doesn't work, you'll already have another to try.
So to answer the question again, "how many baby bottles do I need?". Go against what the other websites are telling you and get extra. Stuff happens and you don't want to not have a bottle when you need one. If you are breastfeeding, get 8-10 and if you are bottle-feeding, get 10-15.
Luckily bottles come with several in a pack and aren't too expensive. You could even leave an unopened box in the closet to have in case you need it. And if you never use it, return it or it would make a great baby shower gift for a friend that is expecting!
Now, since you have registering for bottles on the brain. Let's talk bottles. There are so many different kinds. Make sure to register for 2 different kinds in case your baby refuses one.
Baby Feeding Bottle Types:
You'll need to think about the material of the bottle. Do you want plastic, glass, or stainless steel? Glass bottles are used because many people worry about the chemicals in plastic, however, if you drop a glass bottle, it could shatter. Stainless steel is a great option that won't have chemicals and is fine if dropped, but it's expensive.
Best Plastic Baby's Bottle:
Philips AVENT Natural Baby Bottles
Philips AVENT Natural Baby Bottle with Response Nipple, Clear, 11 Oz, 4 Count

Pros: Has a natural response nipple so baby controls the pace just like breastfeeding. Nipple only releases milk when baby is drinking. When baby pauses to swallow and breathe no milk flows from the bottle. Has an anti-colic valve to reduce discomfort by sending air away from baby's stomach.
Cons: Plastic can deteriorate over time and bottles would eventually need to be replaced. There has also been concern overall plastic baby bottles in general due to chemicals in plastics. See healthychildren.org for more information.
Other Information: Philips AVENT also makes glass bottles and you can purchase compatible baby bottle handles for the bottles
Best Stainless Steel Bottle for Baby:
Pura Kiki Stainless Steel Anti-Colic Bottles
Pura Kiki Newborn Baby Bottle Gift Set – BPA-Free, Stainless Steel

Pros: Stainless steel bottles are free from harmful chemicals that could be in plastic bottles. Stainless steel is also unbreakable, unlike glass bottles.
Cons: Stainless steel is one of the most expensive bottles. It also holds heat so you need to be careful with the temperature of the milk. Although these come with a sleeve for the bottle for better grip and so the bottle isn't warm to the touch.
Other Information: This bottle can transform into a sippy bottle, straw bottle, or water bottle by changing the nipple out for a different lid.
Best Silicone Baby's Feeding Bottle:
Comotomo Silicone Baby Bottles
Comotomo Baby Bottle, Green, 8 Ounce (2 Count)

Pros: These bottles are designed to closely mimic breastfeeding with a skin-like design and squeezable body of the bottle. It is made from 100% food-grade silicone and is considered safer than plastic bottles.
Cons: Takes longer to warm milk in bottle warmers than plastic and stainless steel.
Other Information: Many people like how easy to clean the bottles are with only 3 parts and the bottles have a wide neck. Also dishwasher and sterilizer safe.
Best Glass Baby's Bottle:
NUK Simply Natural Glass Baby Bottles
NUK Simply Natural Glass Baby Bottles, 4 oz, 3 Pack

Pros: Glass bottles do not have harsh chemicals that can be found in plastic. These bottles will also last a long time. NUK is the only bottle with up to 9 nipple holes, just like mom, for a more natural feeding experience.
Cons: Glass bottles are more expensive than plastic. They are also heavy and can shatter if dropped.
Other Information: Most glass bottles have protective sleeves you can put over the glass to help protect it from shattering if dropped.
Best Bottles with Venting Systems:
Dr. Brown's Anti-Colic Bottles
Dr. Brown's Options+ Anti-Colic Baby Bottle – 8oz – 4pk

Pros: Dr. Brown's is the #1 pediatrician recommended bottle in the United States. The anti-colic internal vent system is clinically proven to reduce colic, decrease spit-up/burping/gas, and offers a flow rate that supports breastfeeding. You can also remove the vent when you feel it's no longer needed.
Cons: The extra parts that make up the venting system can be a hassle to clean.
Other Information: Dr. Brown's makes bottles in glass and plastic.
Best Baby Bottles with Handles:
Many of the bottles listed above have handles that can be attached so your baby can hold their bottle better independently.
Dr. Brown's Milestones Transition Wide-Neck Sippy Bottle with Silicone Handles – Blue/Turquoise

Baby Bottle Handle Grip for Comotomo 5 Ounce and 8 Ounce Silicone Bottles, 3 Pack, Green

Compatible Baby Bottle Handles for Philips Avent Natural Baby Feeding Bottles

Baby Bottle Handle for Philips Avent Baby Bottles, Durable Food Grade Silicone

"How Many Baby Bottles Do I Need?" Conclusion:
Again my suggestion would be to buy more bottles than other popular baby websites would recommend. If breastfeeding have at least 5-10 bottles and if you are only bottle-feeding to have 10-15 bottles.
You don't want to have to wash bottles every day or be worried if you accidentally leave one somewhere. Most bottles come in sets and aren't too expensive to have extras on hand. There are also so many options out there for you decide if you and your baby prefer plastic, silicone, or stainless steel bottles. My children were both a fan of the AVENT bottles and pacifiers.
"How Many Baby Bottles Do I Need" FAQs:
"How Many Bottles Should a Newborn Have in 24 Hours?"
This is a question you need to ask your pediatrician. You will probably be told to breastfeed every 2 to 3 hours.
For formula, check out these recommendations from the cdc.
"How Many Baby Bottle Nipples do I Need?"
Get one nipple per bottle. So decide on how many bottles you need per my suggestions of 8-10 if breastfeeding and 10-15 if bottle feeding and get the same number of bottle nipples, but in a variety of sizes.
I say this because if you are buying extra bottles so you don't have to wash often, etc you don't want to be digging through the sink dishes to find a bottle nipple, either. So get extra nipples to go along with your spare bottles.
"How Many Baby Bottles Do I Need if Breastfeeding?"
Baby center recommends 3-5 if breastfeeding. However, I suggest 5-10 after breastfeeding my own 2 children because things happen to bottles and you won't want to be washing them right away.
"Can You Use Big Bottles for Newborn?"
You can definitely use bigger bottles with a newborn nipple. It's more practical to use a smaller one if you are only putting in a small amount of milk, but the bigger ones are fine too.
"How Many 9 oz Bottles Do I Need?"
I suggest only buying a few of the small 4 oz baby bottles, maybe 2 or 3 and the rest of your baby bottles be the larger ones. You can buy bottle sets with multiple sizes in a pack.
"How Many Baby Bottles Do I Need for Daycare?"
This depends on how long they are there. Are they there for 8 hours? How often are they eating? My child ate every 3 hours while I was at work and I was gone for 8 hours.
I breastfed my baby before work at 7 am, then daycare gave a bottle at 10 am, then another bottle at 1 pm, then another bottle at 4pm.
I sent the milk in 3 individual bottles each day. The daycare also had frozen breast milk stored there if they needed more. Talk to your daycare or caregiver to see how they do things. If you use formula, they may just keep 1 or 2 bottles there and wash them each time.
"What Bottles Do I Need for Newborn?"
This depends on your and baby's preference. Both my children used Avent bottles and took to them easily. I also tried Dr. Browns but they preferred Avent. However, if you would rather not use plastic bottles, there are great glass and stainless steel bottle options available in my list above.
"How Many Baby Bottles Do You Need a day?"
This depends on if you are breastfeeding or bottle feeding each time. If you are bottle feeding, do you want to wash bottles often? If you are feeding your newborn every 3 hours and don't want to wash any bottles for the entire day, you are going to make 8 bottles in 24 hours.
"How Often Should You Buy New Bottles for Baby?" or
"When Should You Throw Away Baby Bottles?"
It is recommended to replace bottles every 4-6 months. If you notice any cracks, discoloration, cloudiness, or warping you should replace it sooner. Replace nipples every 1-2 months.
"Do You Have to Wash Baby Bottles After Every Use?"
The CDC says yes, learn more here.
Important Baby Bottle Safety Information:
These websites listed below are great sources for baby bottle and feeding safety.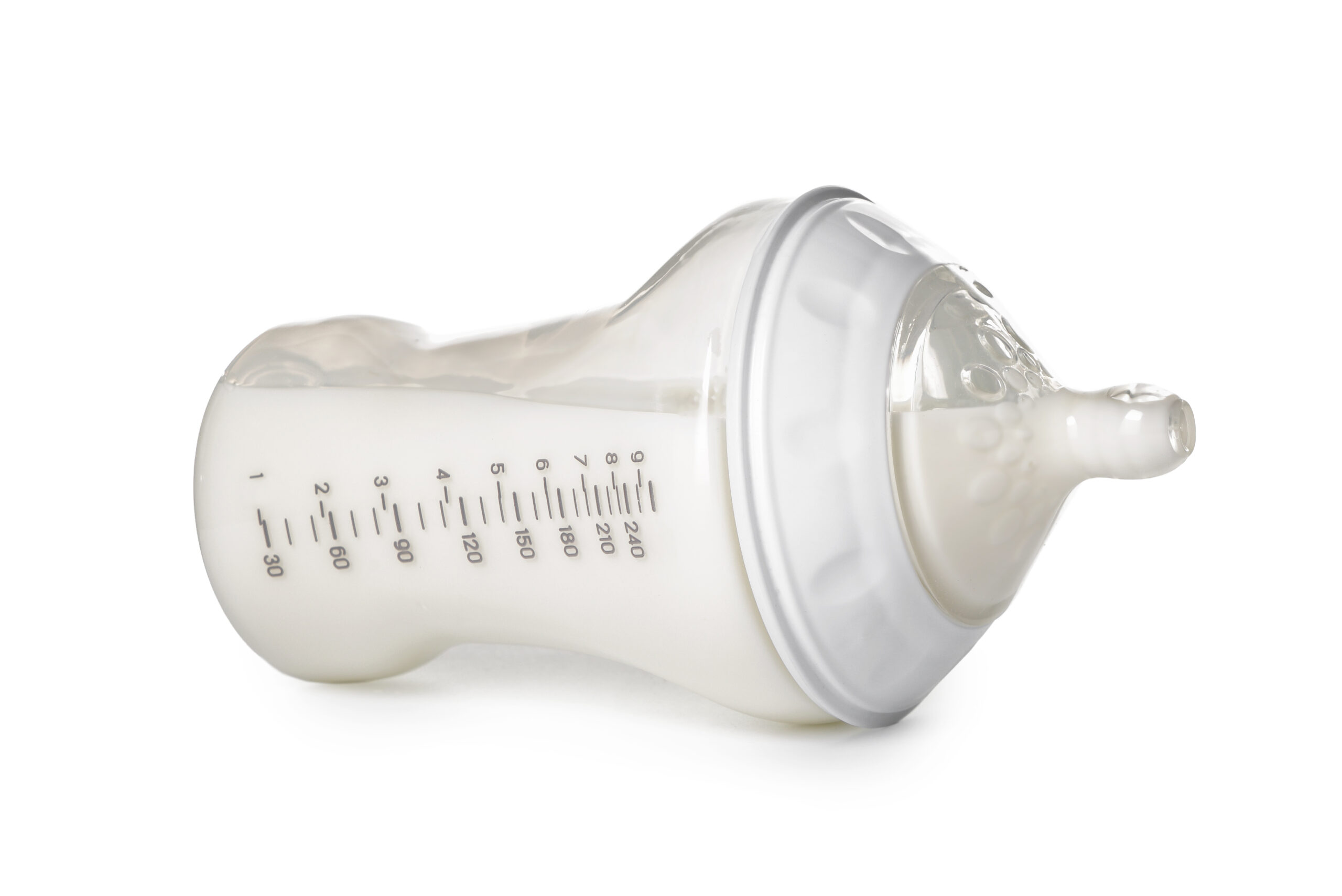 https://www.cdc.gov/nutrition/infantandtoddlernutrition/bottle-feeding/index.html
https://www.healthychildren.org/English/ages-stages/baby/feeding-nutrition/Pages/Practical-Bottle-Feeding-Tips.aspx
https://www.fda.gov/consumers/consumer-updates/infant-formula-safety-dos-and-donts
https://www.nationwidechildrens.org/family-resources-education/family-resources-library/bpa-and-baby-bottles-should-you-be-concerned
Amazon Baby Registry: and Why You Need One
All of these best bottle for breastfed babies can be found on Amazon. You definitely need to add one or two kinds of bottles to your Amazon Baby Registry. If you haven't created a baby registry with Amazon. Here are lots of reasons why you should chose this registry over any alternative.
-Universal Registry: can add items from ANY website, not just Amazon
-Largest Selection: You won't find a bigger selection of baby items anywhere else
-Mobile Selection: You can update your baby registry right from your phone. There is a very easy-to-use app!
-Return Policy: A much longer return policy than other places with easy 90-day returns, and sometimes even longer than that.
-Completion Discount: You get a 10% off across Amazon completion discount, and a 15% completion discount off for Prime Members
-Fast, Free shipping on orders over $25 or free for any amount if a Prime member
-A free Welcome Box for the parents with baby items valuing up to $35 with things you'll actually use!
-Diaper Discount: 20% off diapers for the first year if $500 worth of products are bought off the registry
Check out some of my other posts for other great pregnancy, baby, and toddler information!
-Tips for Baby-Proofing Your Home
-The Warmest Baby Clothes
-The Best Toddler Sleep Sacks!