*This post may contain affiliate links, please see full disclosure for details.
What is an Online Baby Shower? It is a baby shower where all guests participate through their computers! It only requires an internet connection to participate and attend.
No one ever has to leave their homes and mom-to-be still gets to feel special and showered with well wishes and gifts! If you are thinking about planning a baby shower online, let me explain exactly how to make it happen!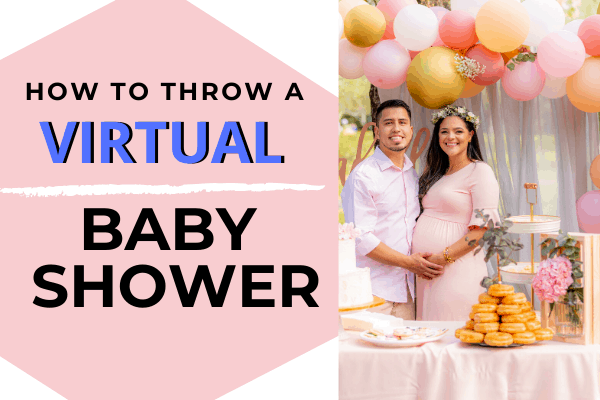 "How do you do a virtual baby shower?"
I know you may be concerned that an online shower could seem impersonal compared to the traditional in-person baby shower. But, there are many ways to get guests involved so it doesn't seem like you are just sending invitations to request a gift. Virtual showers have started to become more and more popular due to several reasons. Let me explain how it all works!
Reasons to Have an Online Baby Shower
Due to the most recent worldwide social-distancing where large groups are banned for safety

Military families that are on assignment and far away from friends and family

Mom-to-be is on bed rest and having a big shower is not feasible

For any mom-to-be that doesn't live close to family and friends

To allow any out-of-town guests to still celebrate the mom-to-be without having to travel
"How Do You Host a Virtual Baby Shower?"
There are so many different ways to go about throwing this online baby shower, with lots of different platforms to choose from! These options can include personalized invitations, online baby shower games, and live video streams of mom opening gifts! Choose what seems like the best fit and experience you are looking for!
Virtual baby showers do not have to include video, but a live stream is always fun! Decide between these options for the route you want to go.
-Are you going to send out real invitations to the online party or also do that electronically?
-Do you want to choose a date and live stream mom-to-be opening gifts that were sent to her previously?
-Or would you rather use something like Google Hangout where guests have the option of also being visible and chatting to the mom-to-be while she opens gifts?
-Would you rather use a platform where you can play games online and upload pictures and skip the live streaming?
Creating Invitations for Online Baby Shower:
If you want to mail out paper invitations for the baby shower, postable is a website where you create the invitation online. Then postable prints the invitations and mails them out for you. You pay the shipping to have them mailed and provide the addresses when you order.
Other popular websites to make customizable paper invitations to print and mail are Shutterfly and Vistaprints. You can also always get paper invitations from Target, Walmart, etc.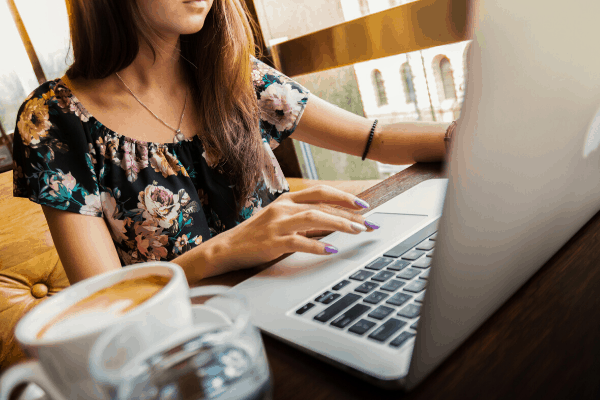 "How Do You Organize a Virtual Baby Shower?"
Below are 3 different options!
If you want to completely take all the hassle out of planning this shower, pay WebBabyShower to take care of it for you! WebBabyShower is the #1 market leader in online baby showers!
WebBabyShower comes with your own customizable website set up by their team, invitations, a guest book, a gift registry page, multiple baby shower games & quizzes, photo & video albums, and video chat options that come with easy to follow instructions!
Here is a video showing you what the platform looks like and how easy it is to set up.
But even more than that, one of WebBabyShower's best features is that your website doesn't have to be a one-time event. It can be a place for mom-to-be to continuously post updates to her family and friends.
Throughout pregnancy and after the baby is born, mom will want to share updates with her closest friends and family. But what are her options? Emailing everyone? Texting? Or the most common….social media. But if you're like me, you don't want to share every detail and photo with EVERYONE that follows you on social media. Well, WebBabyShower takes care of that too.
Your account doesn't only have to stay active for the online shower. If desired, the website can continue through baby's first year of life. The subscription could be a special gift to mom where she can continue to share updates with her closest friends and family.
Mom can upload pictures to a safe place where only those invited can see. Think of it like a social media account designed around this precious new little baby. A place where those invited (even great-grandma who doesn't use Facebook) can celebrate baby's milestones alongside the beaming new parents.
2. Facebook Group Virtual Shower:
"How do you do a virtual baby shower on Facebook?"
If most of the people you want to invite to the shower are already on Facebook, this is a great option! This platform allows friends and family to continuously interact for days leading up to the event. It also eliminates the need for invitations since you are invited to the group through a Facebook notification.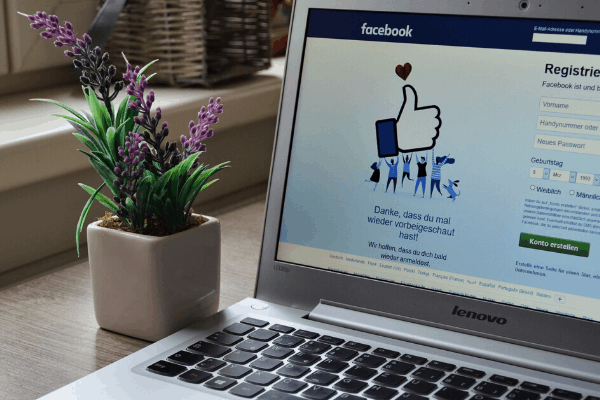 Once logged into Facebook, click the "Create" tab that is to the right of "Home" on your desktop

Click "Create" then "Event"

Then a box will pop up where you choose a theme or upload a picture. This will be displayed at the top of the event page for all the guests to see

It also asks for all the details of the event. Make sure it is very clear that this is a VIRTUAL baby shower. Some people use this simply as a way to invite people to an actual event. I would put "Virtual/Online Baby Shower for ________" in the Title and then "from the comfort of your own homes" or something similar for the Event Location.

You can also choose a co-host who will help keep the dialogue moving through this Facebook group. Then, click "Create."

Next, you will invite guests, you are also able to allow guests you invite to also invite others

The great part about using Facebook is that it comes with its own Video Chat System.
Questions to Ask During a Facebook Virtual Shower:
I'd suggest creating the event for 2 weeks and posting questions and polls every 2 or 3 days to keep guests involved. Here are some questions and poll ideas!
The due date is ______, what day do you think the baby will be born?

What color hair do you think the baby will be born with? (This can be a poll and they click black/brown, blonde, red, no hair)

How much do you think baby will weigh? (This could be a poll as well with the options of under 6 pounds, between 6 and 7 pounds, greater than 7 pounds)

If the parents haven't finalized a name, do you have a baby name suggestion?

Please list some advice and encouragement for the Mama to Be!
3. Free Video-Streaming Online Baby Shower: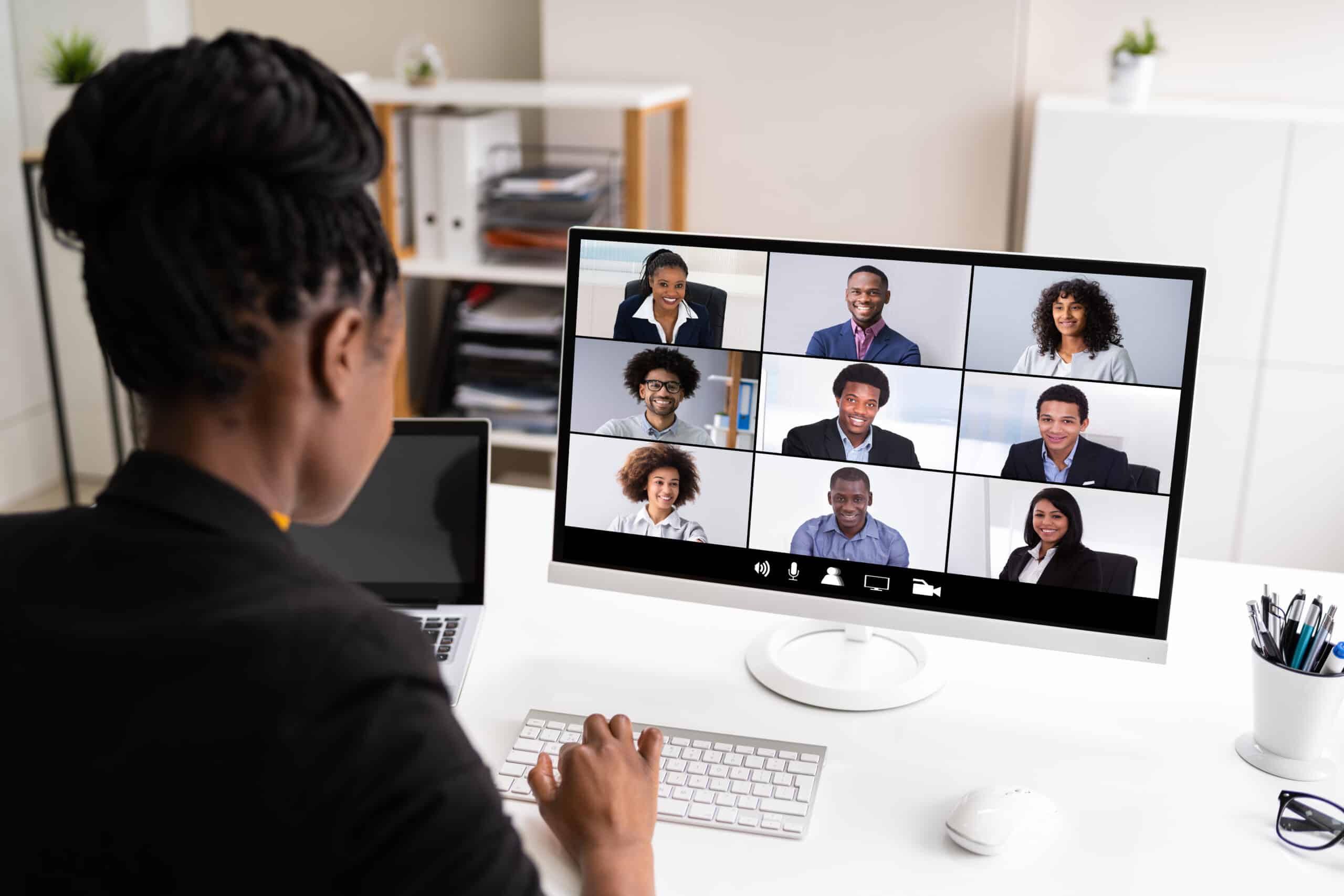 There are lots of different options to live stream a shower. You could use Skype, Zoom, or Google Hangout. Include on your invitations to send gifts by a certain date and mommy-to-be will open the presents live on a certain day and time via google hang-out, etc.
Guests can just watch or turn on their video and microphone to also talk and be connected during the shower. But keep in mind the tech-savyness of the guests you are inviting!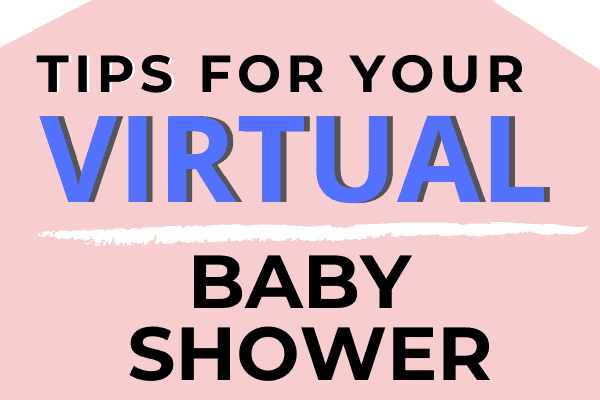 Great Tips for Online Baby Showers:
Tell Mommy-to-Be about Amazon Baby Registry
Include the baby registries in the description of the event. Amazon is one of the most popular places to create registries because it is so easy to buy the products on the list, it ships quickly, and comes with MANY perks!

Go here to create an Amazon Baby Registry. Amazon registries include a FREE Welcome Box for the parents with items valuing up to $35, a 10% completion discount (15% for prime members), you can add items from ANY site, 365-day return policy, and 20% off diapers for baby's first year if $500 of products are bought from your registry! Amazon is THE BEST!
"What do you do at a Virtual Baby Shower?"
Include Virtual Baby Shower Games:
No matter the platform you decide to use, these are great ideas for Baby Shower Games you can include!
–Give a Mom or Dad Quiz for your guests to answer. Ask questions like Who will change more diapers? Who wants more kids? Who will ask the doctor more questions? Who will discover the first poopy diaper up baby's back?
–Guess that baby item's price: Show or list a common baby item like a pacifier, bottle, pack of diapers, etc and have the guests guess the price. Whoever is closest wins!
–Word Scramble: Make a list of baby words and then scramble the letters. See who can unscramble the words correctly fastest or who gets the most correct!
–Guess that celebrity baby name: Give your guests a list of celebrity baby names and have them guess the celebrity parent! You can give a celebrity parent word bank to make it easier. Example: Who has a daughter named North? Kim and Kayne. Who has a daughter named Apple? Chris Martin and Gwyneth Paltrow. Whose children are named Luna and Miles? John Legend and Chrissy Teigen
Use Decorations if Live Streaming: Have a Virtual Baby Shower Theme!
If mommy-to-be is live streaming, create a cute backdrop like she is at an actual baby shower! Create a theme for the party and put up a few wall hangings and balloons that will be seen in the background of the video!
This will make the event even more special for mom! If you are hosting and the guest of honor lives out of town, send a box of easy to set up decorations in the mail!
"How Long is A Virtual Baby Shower?"
Put a time limit for the online baby shower on the invitations so your guests know what to expect. Depending on the number of guests and if you plan to open gifts on video, play games, and/or talk with guests the shower could last 1 to 2 hours.
Follow me on Pinterest for other great mommy tips!
& Here are some of my other most popular posts: