*This post may contain affiliate links, please see full disclosure for details.
Well, Mama, you are now in charge of protecting and guiding this little human being that has no concept of danger yet. They don't inherently know if something is hot, poisonous, sharp, etc! Meaning that babies aren't born knowing to be cautious, ESPECIALLY my little wild man! This post will outline what to baby proof, favorite products, and a creative idea for baby proofing fireplace!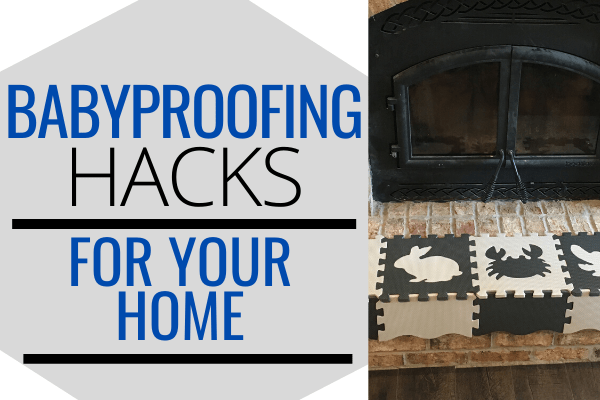 Anyone else get stressed out when you start to think about baby proofing? There are SO many products out there! And how do you decide WHAT to baby proof?!
Kidshealth.org says,
"Most household accidents happen in areas with:
water: in the bathroom, kitchen, swimming pools, or hot tubs
heat or flames: in the kitchen or at a barbecue grill
toxic substances: under the kitchen sink, in the medicine cabinet, in the garage or garden shed, or even in a purse or other place where medicines are stored
the potential for a fall: on stairs, slippery floors, from high windows, or from tipping furniture
choking hazards: including an unsafe sleep environment, foods that pose a choking risk (like grapes or hot dogs), button batteries, and items inside and outside the home that could entrap or strangle a child"
Unfortunately, I added to the household injury statistics when my 1-year-old son fell and busted his head open.
I know that even with the best of baby proofing, accidents will still happen. However, my son's accident could have been easily prevented if I had covered up a sharp edge in my home.
We did not baby proof EVERYTHING in our home. This list covers the non-negotiable areas that can't be skipped over. I'm talking about those places in your home that if you turn your back from your child for a second, could lead to a potentially fatal accident!
Baby Proofing Areas & Products
Baby Proofing Fireplace:
You probably already know that baby proofing a fireplace is non-negotiable. The hard brick and sharp corners could be very dangerous if our son fell on it.
We bought grey, foam puzzle pieces to use as hearth padding. This was such a quick and easy option! We chose grey foam, instead of the multi-color puzzle pieces because it matches our living room better.
The best part is that the foam pieces sit on top of the fireplace hearth without anything sticky. They are made to stay in place. So, they do NOT slide around when it's sitting on the hearth.
It is easy to remove too. When we use our fireplace, we just lift the puzzle pieces and set them to the side.
It covers the sides and top of the hearth as well. It gives wayyy more coverage of the hearth than other products out there.
We initially bought foam edges that look like a black pool noodle and wrap around the top edges. It stuck to the fireplace hearth with double-sided tape.
One set of the foam edges weren't enough to cover our hearth. It also didn't stick well and only covered the edges, unlike the puzzle pieces that cover much more. If you are baby proofing the fireplace, this is such a great option over the fireplace hearth padding on the edges or a fireplace gate!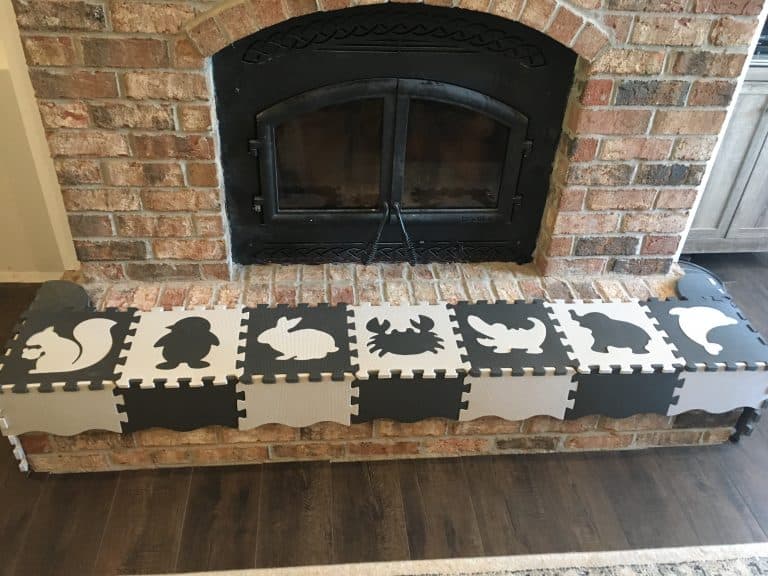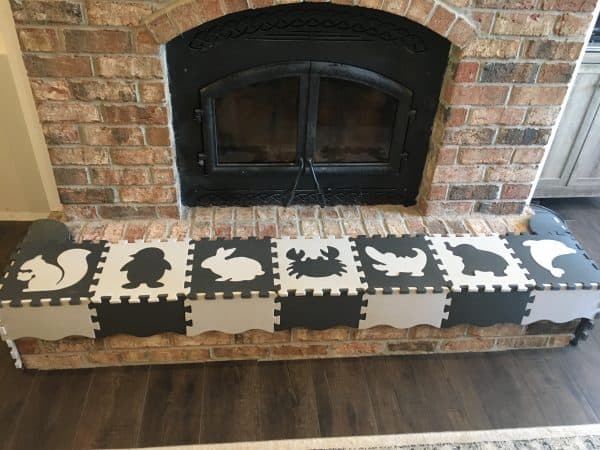 FUN LITTLE TOYS 25PCs Baby Play Mat with Fence Including 9
Baby Proofing Fireplace Second Option:
We recently updated our baby proofing fireplace materials we have listed above. We had cabinets installed and I wanted something that matched it better than the foam puzzle pieces.
Here is what it looks like below, then keep reading to hear how my husband made it. Depending on the materials you use, it should cost around $100 to make.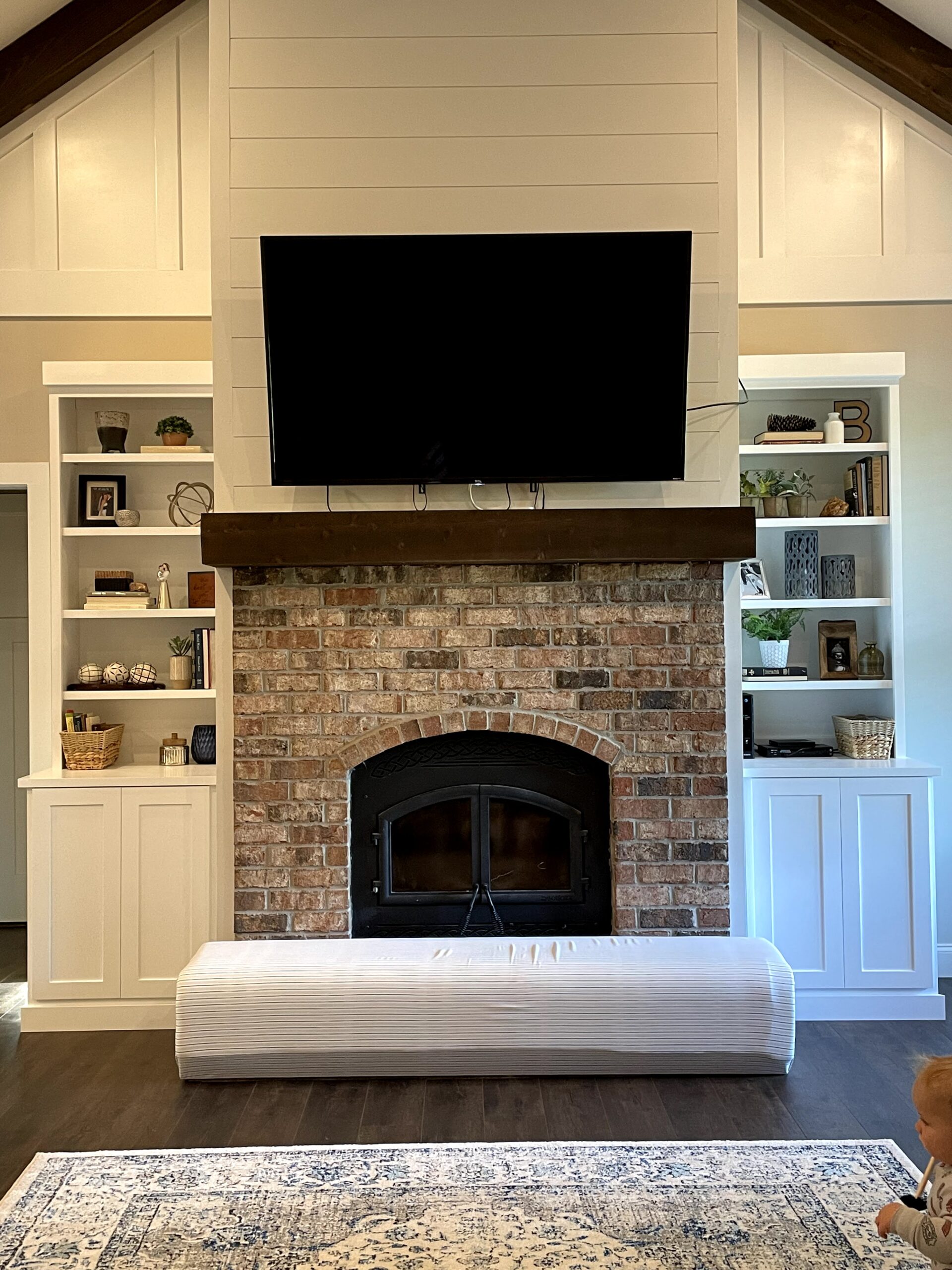 My husband built a wooden box to fit over our fireplace hearth. He used MDF from Home Depot. He bought a 4'x8′ 1/2″ sheet of MDF and it didn't take all of it. He used pocket hole jig and pocket screws to put it together.


This is the pocket jig my husband has. He didn't buy it specifically for this project but was something he already had. Since the MDF was a 1/2 inch he used 1 inch pocket hole screws.
Kreg Pocket-Hole Jig 720 PRO, Blue – KPHJ720PRO

Kreg SPS-C1-100 Pocket Screws, 1

Next, he used spray adhesive to stick the foam to the MDF. He sprayed the MDF and the foam both before wrapping and sticking the foam to the MDF. The foam can get expensive.
We used 2″ upholstery foam, make sure your hearth measurements match the amount of foam you're going to buy. You don't want to get started and realize you have to buy a whole other pack.
Gorilla 6301502 Spray Adhesive 14oz, 1-Pack, Clear, 14 Ounce

Finally, we bought fabric when it was 50% off at Hobby Lobby. I bought a material that was easy to clean if I needed to scrub it since I won't be able to throw it in the washing machine. He used staples and a staple gun, he wrapped the fabric around the foam and stapled it to the inside.
The sides were the most difficult to figure out how to make the fabric look clean instead of bunched on the sides. The best way to describe was how you wrap a present with wrapping paper. You fold the sides in and then pull a flap over and staple. Comment if you have any questions about the process and I'll try my best to answer.
Corner Protectors:
When building our house, we used wood 1×4's for our door trim. We also have board and batten in the kitchen. So, this means we have plenty of sharp edges around.
Initially, I didn't think to baby proof these. But, then my son fell and busted his head open on some trim! I HAD TO BABYPROOF BETTER, I felt so guilty for not thinking about it sooner!
I bought this foam for sharp edges and corner protectors. We put it on the bottom of the board and batten, door trim, and the trim around windows. The pictures below show the foam on the bottom edge of the board and batten beneath a window in my son's playroom.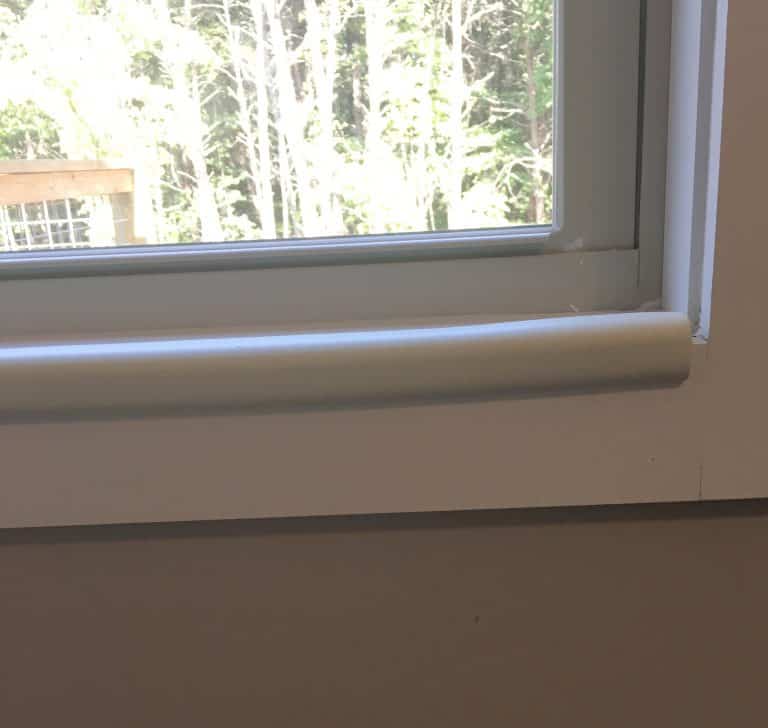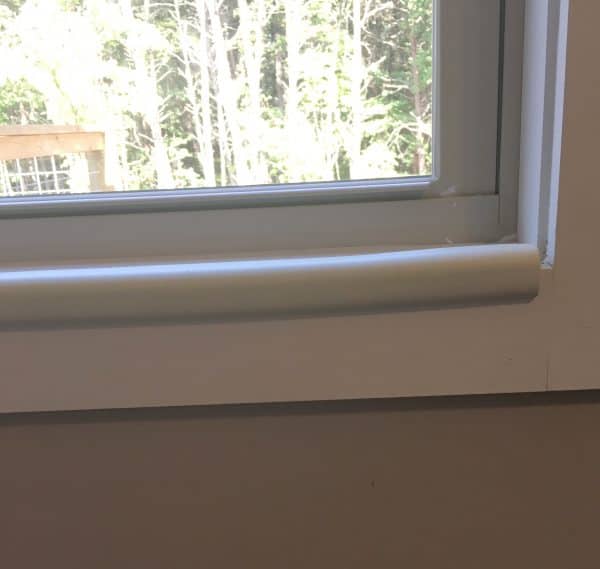 [Upgraded]Vacker Extra Thicker Child and Corner Cushion[16.5ft Edge + 8 Corners]
Tip: If you buy this foam, it uses double-sided tape. Peel off only one side and stick it to the foam. THEN, peel off the other side before you put it on your furniture. I read in the Amazon comments that people said the tape was hard to deal with, but they were taking the paper off both sides of the tape before putting it on the foam!
Baby Proofing Door:
We have a one-story house over an unfinished basement. The stairs are also unfinished, steep, and dangerous so we had to have a babyproof door! I wanted NO CHANCE that our son would get the door to the basement open and fall down the stairs.
We didn't put a doorknob on that door. Instead, we put just a deadbolt. We keep the key to the door on top of the door frame. It is ingrained in us that this door is always locked behind us once we go downstairs.
Kwikset Single Cylinder Deadbolt with SmartKey, Satin Nickel Finish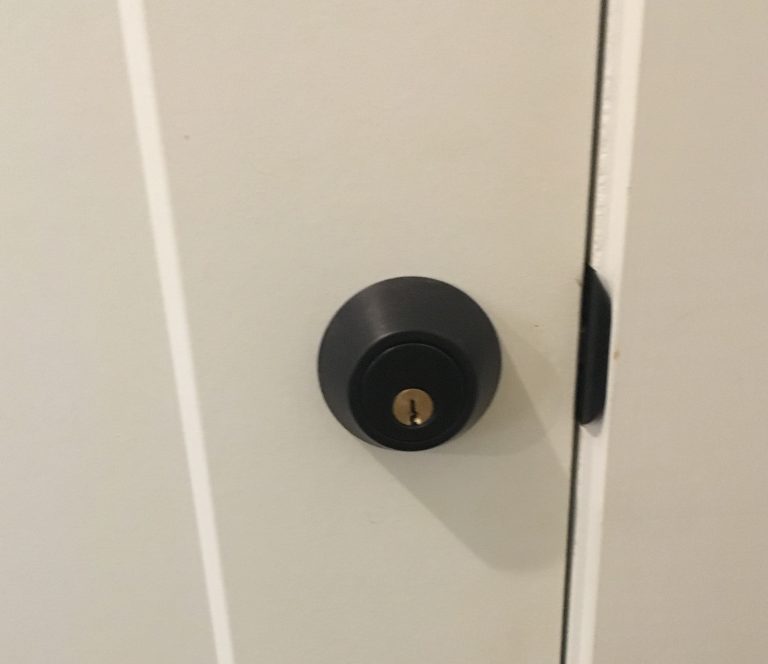 Baby Proofing Stairs:
If we had a second story, I would absolutely have a baby gate on it. We had this gate as a dog gate.
You need to prevent your child from falling down the stairs if they are out of sight. I would suggest having a gate at the top and bottom of the stairs. I know it may be annoying to open and close, but being inconvenienced for a few seconds is better than your child getting hurt.
It opens easily. You slide the latch over with your thumb, then push the gate open with the same hand. Nothing is worse than those complicated gates you can't figure out how to open at other people's houses!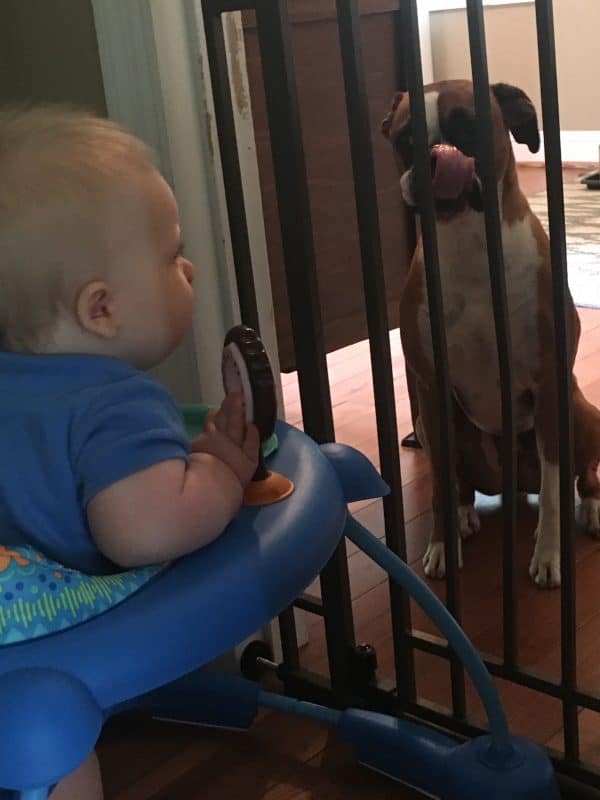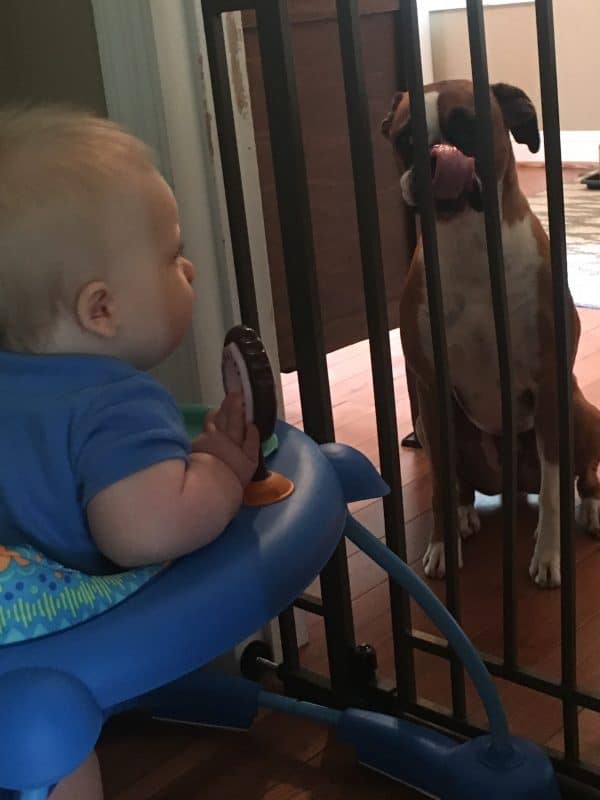 Summer Multi-Use Deco Extra Tall Walk-Thru Gate, Bronze (28.5 – 48
Baby Proofing Cabinets Containing Chemicals:
We keep our cleaning supplies under the sink. The cabinet containing the chemicals is baby-proofed using these cabinet locks.
All of our other kitchen cabinets are not babyproofed. The other cabinets do not have anything dangerous in them.
We have been working with him and telling him he isn't allowed to get into those other cabinets. But even if he did, there isn't anything sharp or poisonous in the cabinets without locks.
We also have cabinet locks on the bathroom cabinets in our son's bathroom because I keep cleaning supplies under the sink!
We had to try several cabinet locks! Some locks would not let us open the cabinet door enough to slide our finger through to unlatch it. Our cabinet doors are pretty thick!
The locks linked below work great. They are inexpensive too.
Safety 1st Spring n' Release Latches, 10 Pack
Baby Proofing Doors:
This one is NOT a must for baby proofing. But since we built our own house, I thought this might make life easier.
We put door knobs without locks on my son's bedroom and playroom door. He does not need privacy for a longggggg time. Plus, it keeps me from worrying he will lock himself in these rooms.
If you don't want to replace your doorknobs, go ahead and put keys on top of the door frames for the day your child realizes they are tall enough to lock the door.
Copper Creek CK2020TB Colonial Passage Door Knob, Tuscan Bronze
Baby Proofing Outlet Covers:
Put outlet covers in any room a baby or toddler may be unsupervised for a minute when you turn around to do something, go to the bathroom alone, etc.
You want to protect them from sticking something in there and getting shocked!
Safety 1st Plug Protectors, 36 Count
Baby Proofing TV & Furniture Anchors:
Our TV is mounted to the wall above our fireplace. If we had a big screen TV that sat eye level on a shorter piece of furniture, I would have a furniture anchor on it.
There are too many stories of toddlers being hurt or killed because they pull heavy furniture down on themselves.
This goes for tall bookshelves and dressers too. If you have these in your home in a place your baby or toddler can get to, put a furniture strap/anchor on it.
Or if you don't mind making holes in the wall, I've had friends bolt their furniture directly to the wall!
Skyla Homes – TV & Furniture Anchors (10-Pack) – Anti Tip
I hope you found my list of Baby Proof Hacks and Ideas helpful!
Baby proofing looks different for everyone. I would baby proof ALL THE THINGS after experiencing my son's head injury. I am one of the world's biggest helicopter moms, but my husband is more on the reserved side and didn't want to bubble wrap everything, haha! So these baby proofing necessities are where we met in the middle!
We had to go through several different products to find what would work, and I hope this cuts down the hassle of you having to do that too. Using the foam puzzle pieces as hearth padding when baby proofing fireplace has been the most popular suggestion from this list!
Check out some of my other blog posts!