*This post may contain affiliate links, please see full disclosure for details.
I was so emotional when I brought my baby home from the hospital and just days later he had a bright, red diaper rash! It looked like it HAD to be painful! Diaper rash is red, inflamed skin on your baby's bottom. It can be caused by many different things including wet diapers, skin sensitivity, and chafing.
I called my pediatrician's office and cried on the phone to the nurse, asking her what I was supposed to do. It looked so terrible and I felt so sorry for him. And this wasn't even a week after I had given birth, I was already an emotional/hormonal mess!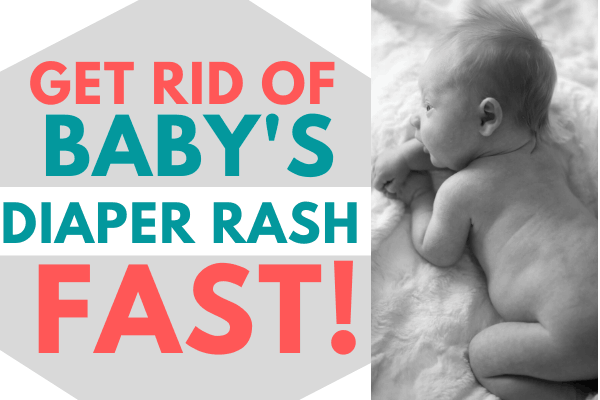 I had been changing his diapers as soon as they were wet and putting diaper cream on his bottom every. single. time. I changed his diaper! I thought I had been doing everything right?!?
The doctor prescribed Nystatin for him, which is a medicated cream you put on their rash several times a day. But, even the Nystatin didn't work great. His rash still wasn't looking any better after a day or two, so I started making several changes! Starting with Products!
Are these Products Causing Your Baby's Diaper Rash?
1. Try different brands of DIAPERS:
Certain brands of diapers irritate little bottoms! For us, the Huggies brand has been the only kind we can use. The diaper rash could be caused by something in the diapers you are using. (For some reason my son can't tolerate pampers)
We tried lots of different brands and kept track of how his bottom was doing with each brand. We used the Huggies Little Snugglers when he was a newborn. Now that he's older we use Huggies Snug and Dry. I've tried switching brands several times, and the rash comes back again! So, Huggies it is until he's potty trained!
Click Here to buy Huggies Little Snugglers
Click Here to buy Huggies Snug and Dry
2. Don't Use Wipes Until the Rash Heals:
When my son's bottom had a bad diaper rash that we couldn't get to go away, we did NOT use wipes. INSTEAD, we used baby washcloths! When I started doing this, I FINALLY saw improvement, and pretty quickly!
I emptied our wipe warmer and put several damp baby washcloths in it. Placing new ones in there each day. The wipe warmer kept the washcloths damp and warm until they were ready to be used. I would clean him up with a washcloth, then I'd wash it in the washing machine.
When I had to go somewhere, I kept two plastic bags. One with damp washcloths and the other to put the dirty washcloths in until I got home to wash them again.
It helped heal the rash much faster than using wipes!
Click Here to Buy Wipe Warmer
Click Here to Buy Soft Baby Washcloths
3. Try Different brands of WIPES:
Once your baby's rash has healed, try different brands of wipes! We tried several different brands to see what didn't irritate him. Water wipes are great. They are safe, hypoallergenic, and 99.9% water!
WaterWipes Unscented Baby Wipes, Sensitive and Newborn Skin, 3 Packs (180 wipes)

Click Here to Buy Water Wipes
The amazon brand sensitive wipes have also worked great and they are cheaper than water wipes! Isn't Amazon just the best?!
Huggies, Pampers, and other big-brand diapers that are scent-free and for sensitive skin STILL caused a diaper rash for my son. So, just because it says for sensitive skin, doesn't mean you're in the clear.
Amazon Elements Baby Wipes, Advanced Sensitive, 810 Count
Click Here to Buy Amazon Sensitive Skin Wipes

4. Diaper free time:
When your baby has a diaper rash, your pediatrician is most likely going to tell you to give him/her diaper-free time to air out their bottom. A rash thrives in moisture, so you want to air out that booty!
But, man was diaper-free time hard when my son was a newborn and peeing and pooping all the time! I could not figure out how I was going to let him air out his booty without making a HUGE mess.
Finally, one of my friends gave me a genius idea! She has twins and her babies also had a horrible diaper rash. While her kids were doing diaper-free time, she laid them on puppy pads!
You can put your baby on their stomach for as long as they will stand on the pad. Then, if you flip your little boy on his back, you put a baby washcloth over his man parts. This way he won't spray everywhere when he has to pee. If you are worried about an allergy to the puppy pad, put a towel over it! You can throw the towel in the laundry and the pad will catch anything that soaks through it!
Puppy pads…how genius! Such an easy cleanup!
Click Here to Buy Puppy Pads
So, you probably already know that you are supposed to use diaper cream. But, there are SO MANY KINDS. We tried Vaseline, Butt paste, Desitin, and Aquaphor and they don't compare to the quality of Triple Paste! Plus, it's a medicated ointment!
Triple Paste is the best, probably one of the top baby products I'd suggest that every parent needs! Even if you don't use it daily as we do, you should bust it out at the first glimpse of a rash!
Triple Paste is the only diaper cream we've used since trying it! It heals my son much faster than even the prescription Nystatin. It is completely worth the money!
Click Here to Buy Triple Paste Diaper Cream
Isn't Diaper Rash Just the Worst?
I just hated it when my sweet, innocent, little guy was hurting because of his rash. Thankfully since we have this system of products and tips in place, he hasn't had a bad rash since he was a newborn!
Make sure to pay attention when you switch products to see what could be causing the rash!
Change baby's diapers frequently to avoid a lot of moisture. When your baby starts sleeping through the night, add a booster pad to their diaper to help prevent extreme wetness! We use one of these in his diaper every night! It prevents diaper leaks too!
Click Here to Buy Diaper Booster Pads
Check out some of my other blog posts!