*This is a sponsored post but all opinions are my own.
Scooters are not only fun, but great exercise for toddlers, children, and adults. Riding a scooter around keeps you active but also can make a commute or long walk much easier than if you were without one. Don't let choosing the best kick scooter become a daunting task, let me explain how to choose the best quality scooter as well as how to choose the correct size scooter.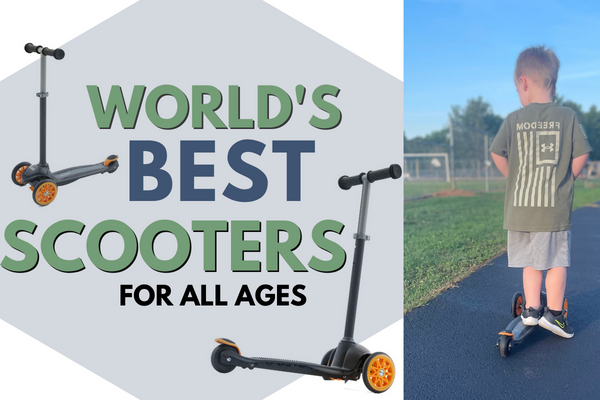 *This post may contain affiliate links, please see full disclosure for details.
Have you ever been walking with your child and they get tired and ask you to carry them to your destination? Picture this: you're going to your local playground and you decide to walk there because it's not too far away.
You've got your diaper bag, kids' water bottles, and you are holding your children's hands. Then one of your kids starts to complain about how far the walk is and asks to be carried. You've got all these other items you are trying to hold on to so your choices are: try to waddle to the park holding your child and everything else OR make your toddler walk while they continue to cry or complain.
But there is another option. The wonderful solution of the best kick scooter enters this equation. You won't have to push your child when you're walking like you do a push car or a stroller. There are kick scooters designed specifically for toddlers. Your child is going to love riding a kick scooter instead of walking. No more kids whining on long walks, or mom or dad carrying children when the kids get tired of walking.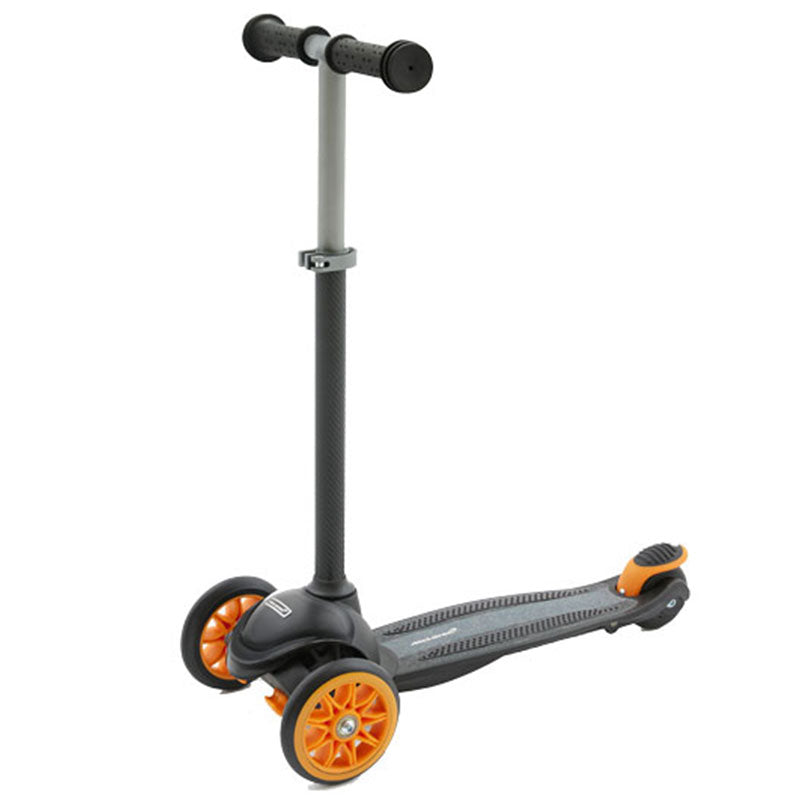 McLaren Automotive is a sports car manufacturer that was founded as McLaren Cars in 1985. The brand is credited for having some of the world's fastest cars. The McLaren brand and cars are known to be strong, lightweight, durable, and eco-friendly. And how does McLaren Automotive tie into choosing the best kick scooter?
Well, now there are McLaren-inspired scooters for toddlers, kids, and adults. These kid scooters have several touches that are inspired by McLaren cars and proudly wear the McLaren badge of approval. These kick scooters are really great quality and are going to be something that lasts your family a really long time.
Best Kick Scooters: Toddlers and Up!
When choosing the best kick scooter for our kids, we had to keep in mind the coordination and balance that were required, and the age level of our children. We were originally looking for a kick scooter for our 4-year-old.
We decided on the McLaren 3-wheeled scooter because it's best for children 3 to 5 years old that are learning to balance a scooter for the first time. The 3-wheeled scooters ensure stability and will make your child feel safe and secure while riding.
What we didn't expect was for our 1-year-old to hop on and start kick scooting around like a little professional. The 3-wheeled scooter has an adjustable aluminum T-bar that allows me to lower the handlebars for my 1-year-old with the click of a button.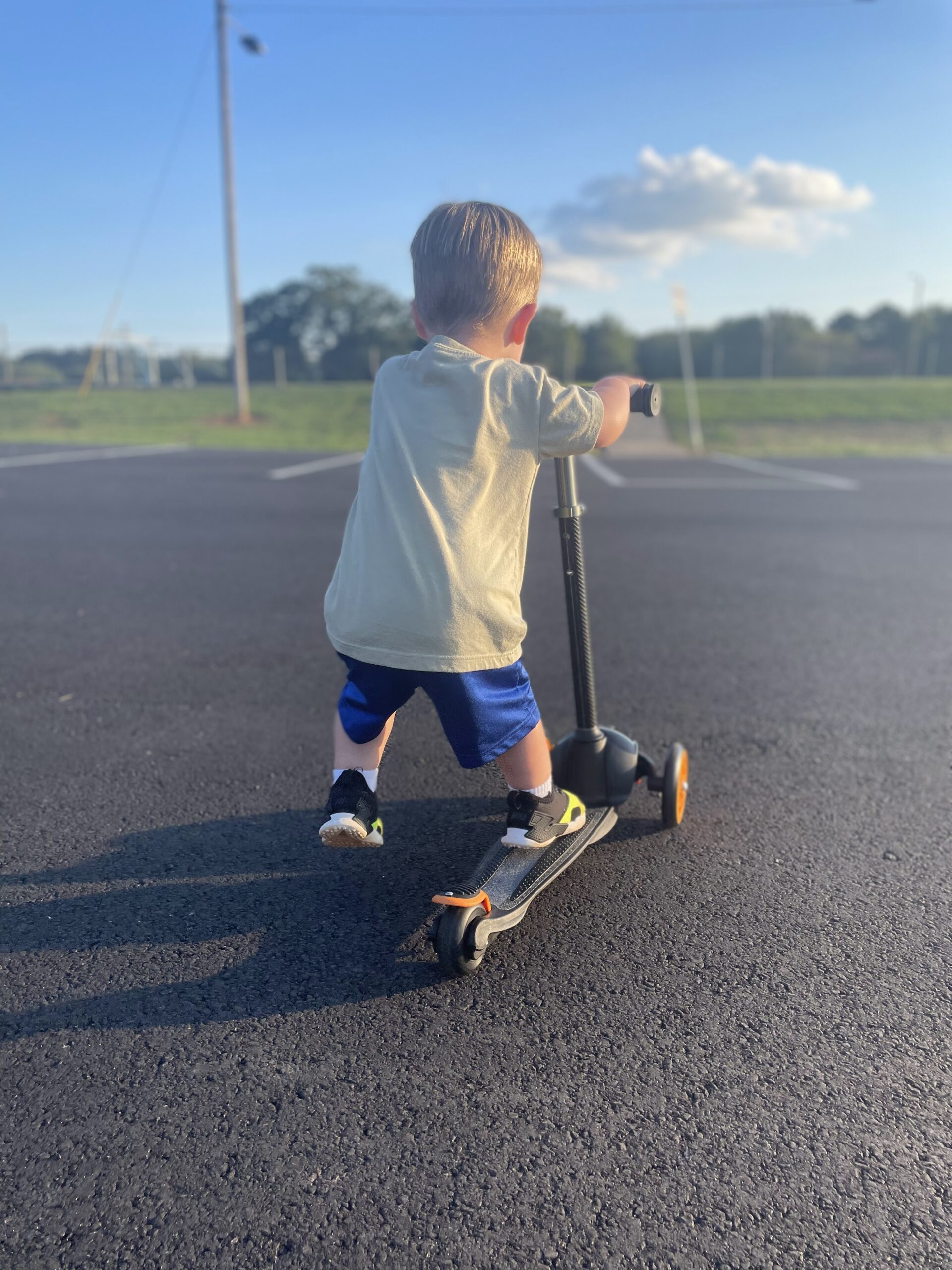 And speaking of click of a button…when our kick scooter arrived at our house, I told my son that we had to wait until his dad got home to put it together. I was confident that it would need some sort of assembly as most outside toys do, and my husband was better off handling the task.
BUT, I opened the box and it was so simple! The handlebar slips into the base of the kick scooter and locks into place. That's it. It was done and ready to ride.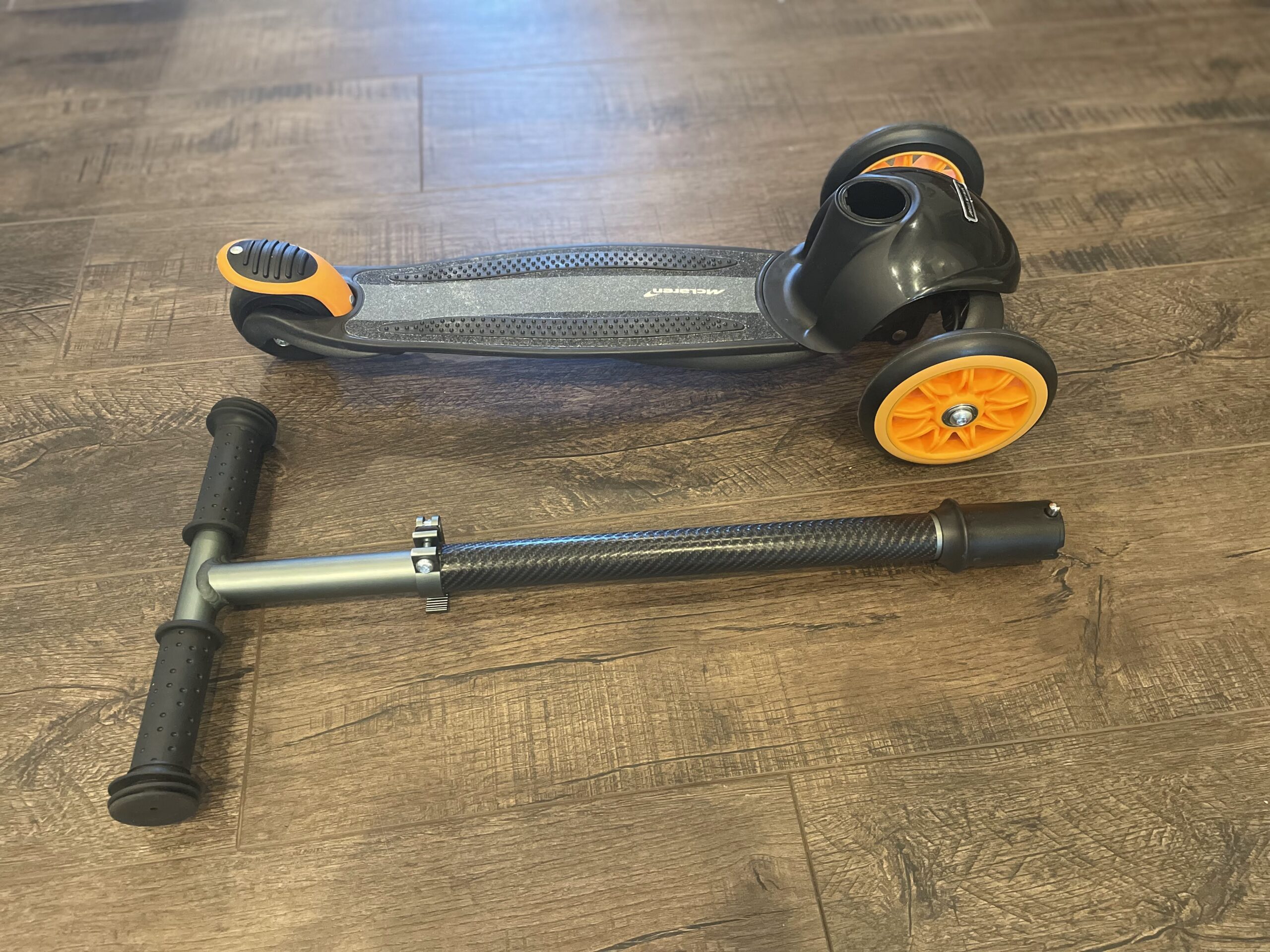 The weather wasn't great the next few days after we got our kick scooter. It rained for several days so we let the kids ride the kid scooter around the house. The boys loved it and I had to set a timer for them to switch off using it.
The handles are very soft and the metal is completely covered. This ended up being important when my children inevitably bumped the handles up against the walls when they were riding the push scooter inside the house…and it didn't hurt or mark up the walls.
There is a sturdy propylene-covered sleek deck to stand on that has an anti-slip cover to keep you or your child from slipping off the scooter when stepping on and off. The McLaren scooters also have a wide brake on the back wheel that took my 4-year-old no time to figure out.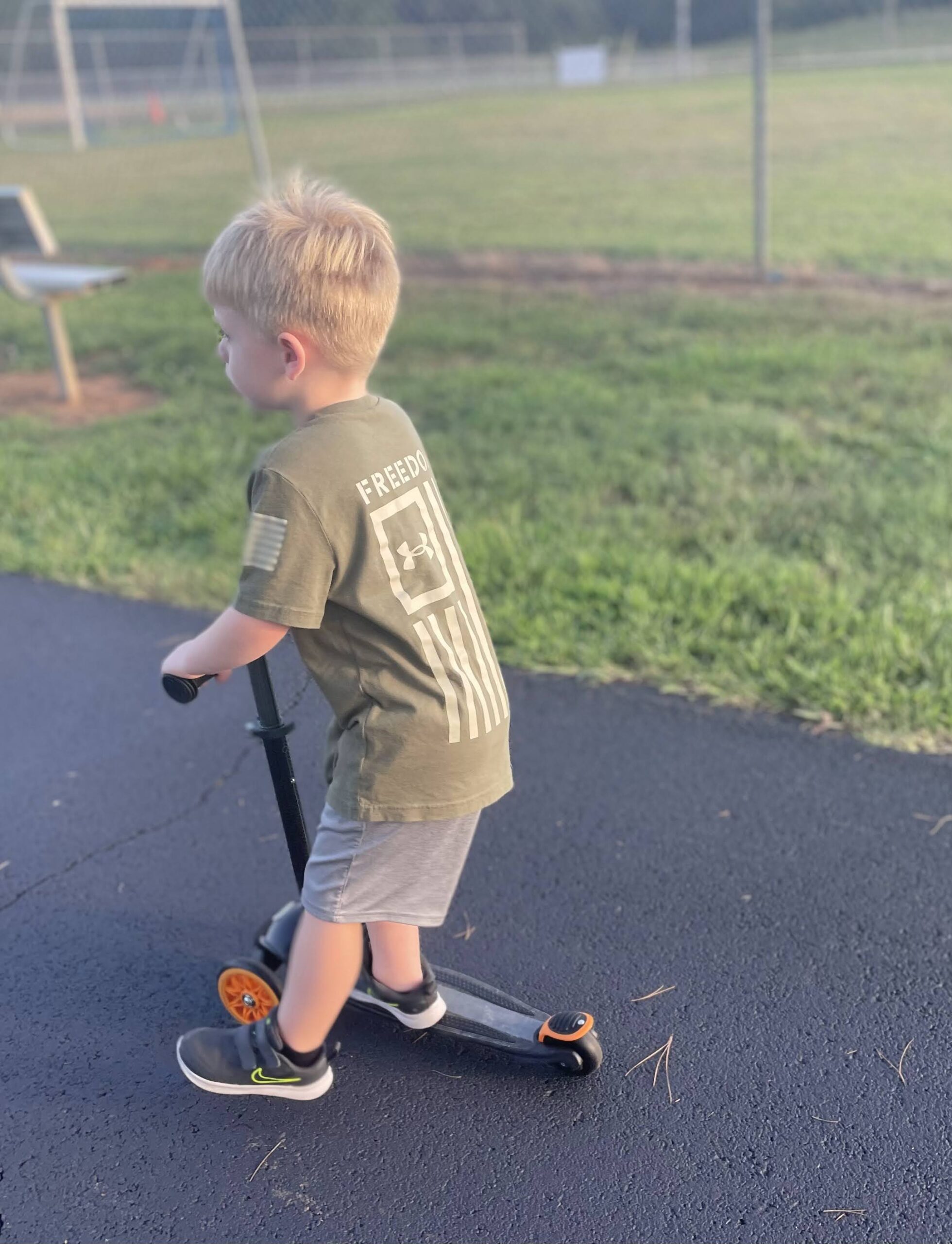 Another thing we love about the McLaren scooters is their look and quality. They aren't cheaply made and it is obvious. These are high-quality kick scooters and aren't going to end up piled in the back of a garage like the mound of old razor scooters you've probably seen at your grandparent's house (or maybe that's just a thing we see all the time in the South haha).
My only complaint is that I wish the 3-wheeled scooter was able to fold up for easy storage. The T-bar comes out of the deck easily, so we take it apart and put it in the car with the pieces separated to save room in the trunk of the car. The picture below is with the T-bar removed and it stacked on top of the riding deck.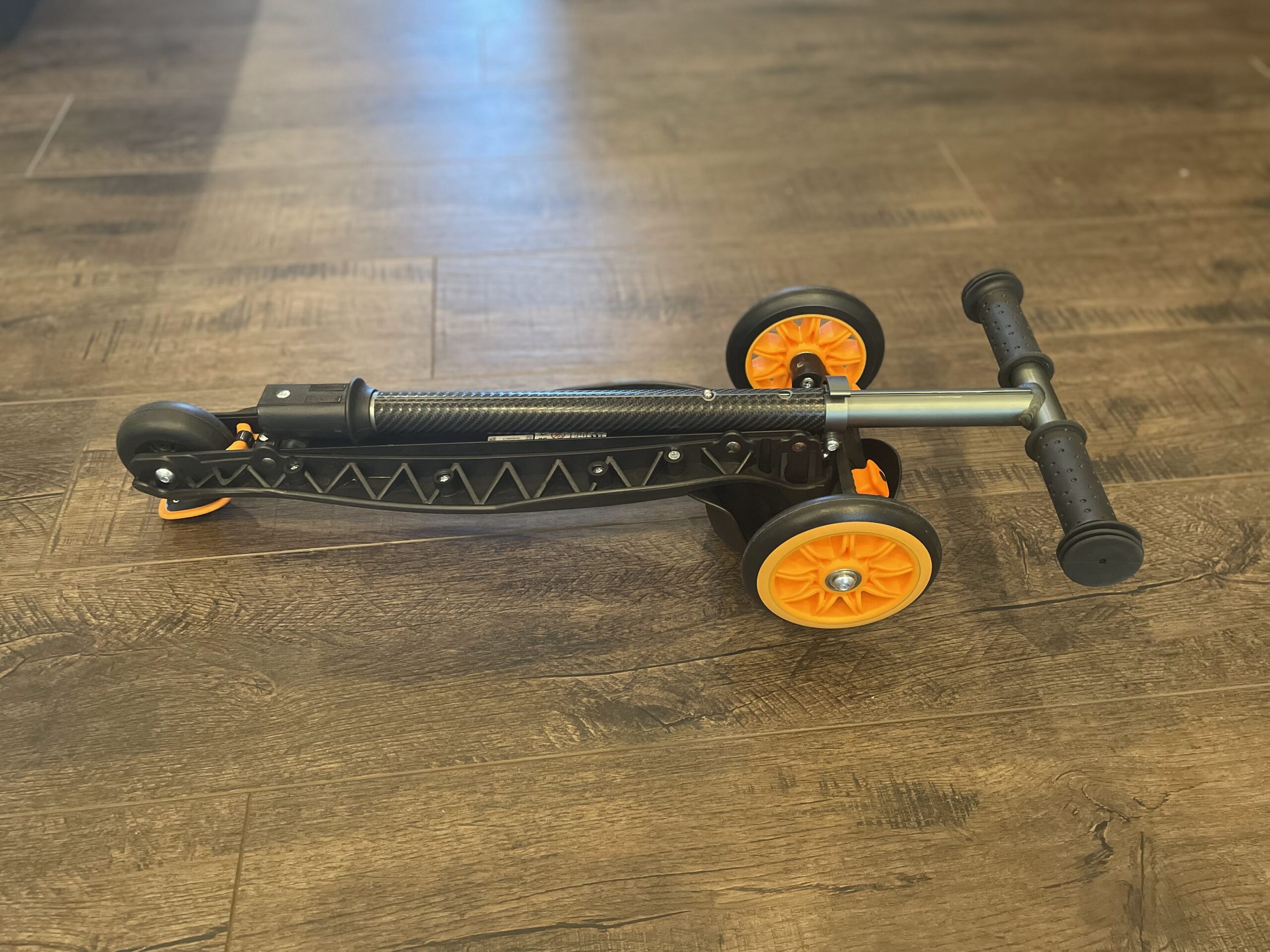 McLaren does have several 2-wheeled scooters with quick fold hinges that do make the kick scooters portable and storage easy. There is more information on those scooters and choosing which is best for you or your child based on height, weight, and motor skills below.
Choosing the Best Kick Scooter Guide:
Children must be able to balance themselves if they are going to use a two-wheeled scooter independently, similar to riding a bicycle without training wheels. And like a bike, a two-wheeled scooter requires a minimum speed when riding it in order to stay balanced. If your child is not ready yet to balance themselves on their own, it is best to go with a 3-wheeled scooter.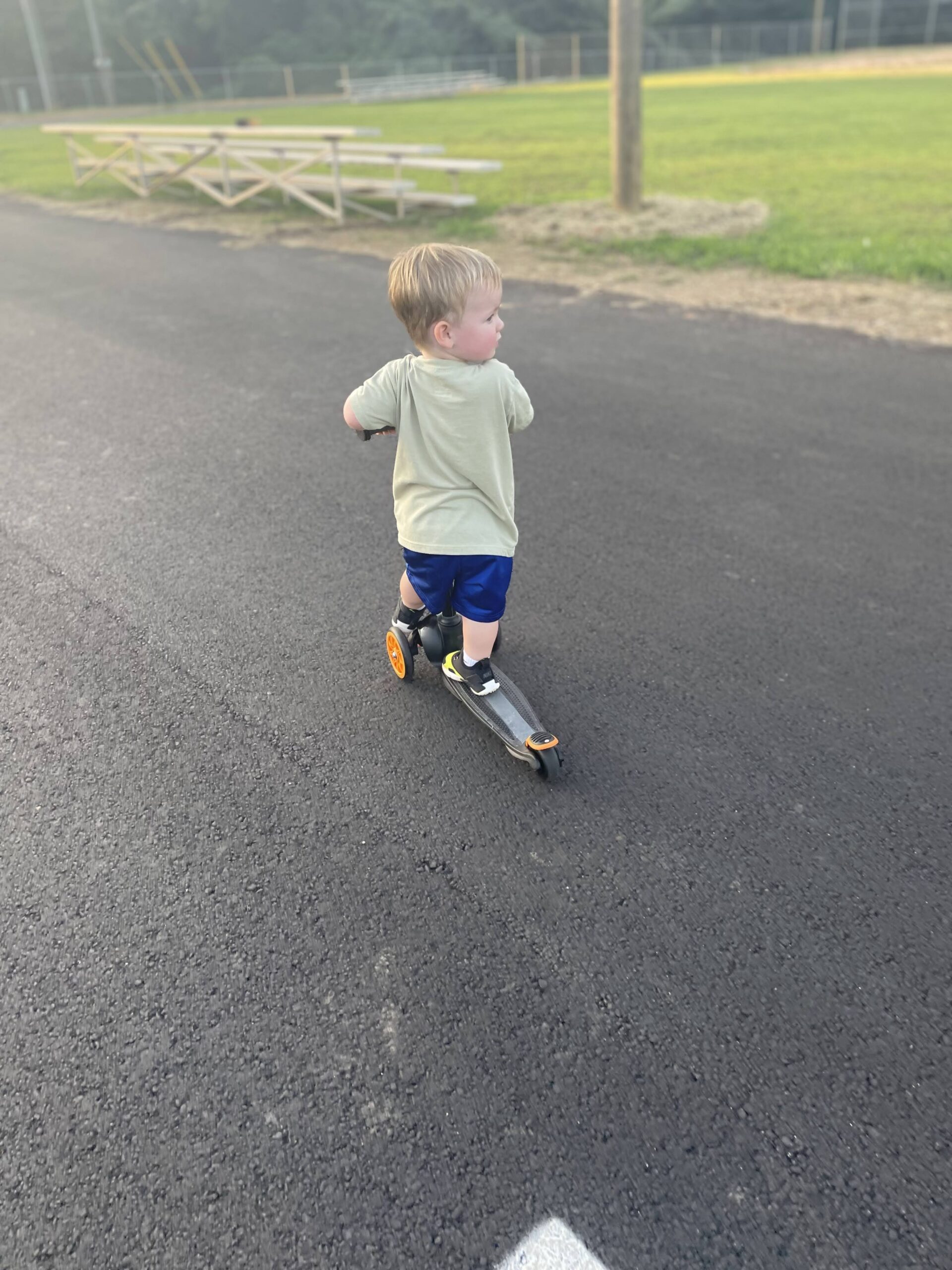 The 3-wheeled scooters allow your toddler to stand on the deck without being in motion. It gives more stability to the toddler who may have a difficult time balancing. The 3-wheeled scooters require the rider to lean in the direction they want to go to steer, unlike the 2-wheeled scooters where the T-bar is able to turn to steer.
Beyond assessing your child's balance and coordination skills, age and weight limit are also a factor in deciding the best kick scooter for your child. McLaren has 3 kid scooters to choose from and 1 of them is also a great push scooter for adults.
1. McLaren McSO1 Scooter: Best Kick Scooter
McLaren Kick Scooters for Pre-Schoolers (3-6 yrs) – Officially Licensed Product of McLaren Automotive, Beautiful Yet Purposeful Design

This scooter is a great beginner scooter designed for ages 3 years old to around 6 years old. (However, my little guy has had no problem riding it and he is only 1 year old). The max weight recommendation is 110 pounds. It uses a lean-to-steer system meaning your child will lean in the direction they wish to go. This kids scooter also features a wide brake on the back wheel to slow down and stop the scooter.
2. McLaren McS02 Scooter: Best Kick Scooter
McLaren Kick Scooters for Kids (5-8 yrs) – Officially Licensed by McLaren Automotive, Beautiful Yet Purposeful Design

This 2-wheeled scooter for kids is designed for ages around 5 to 8 years old. The max weight recommendation is 130 pounds.
3. McLaren McS03 Scooter: Best Kick Scooter
McLaren Kick Scooters (8+ yrs, Teens or Older) – Officially Licensed by McLaren Automotive, Beautiful Yet Purposeful Design

This McLaren scooter is the best kick scooter for commuting. It is designed for ages 8 years old and up. The max weight recommendation is 220 pounds.
Using this scooter, you'll still have a smooth ride even on the bumpiest of roads because the scooter's front suspension system and carbon speeding bearings keep you stable.
Choosing a Scooter Based on Height
When choosing the best kick scooter, you'll need to buy one that is the correct height. The handlebar is the main support for the rider on a scooter. When standing on the deck of a scooter, the handlebars should lie between the rider's hip and belly button, or near the rider's elbows. You don't want to be hunched over if the scooter's T-bar is too low or for your child to have to reach upward if the T-bar is too tall.
The McLaren scooters have adjustable T-bars to help the rider get the most comfortable height needed to ride, as well as allow the scooter to grow with the child. This means the scooter could be used for many years as your children grow up.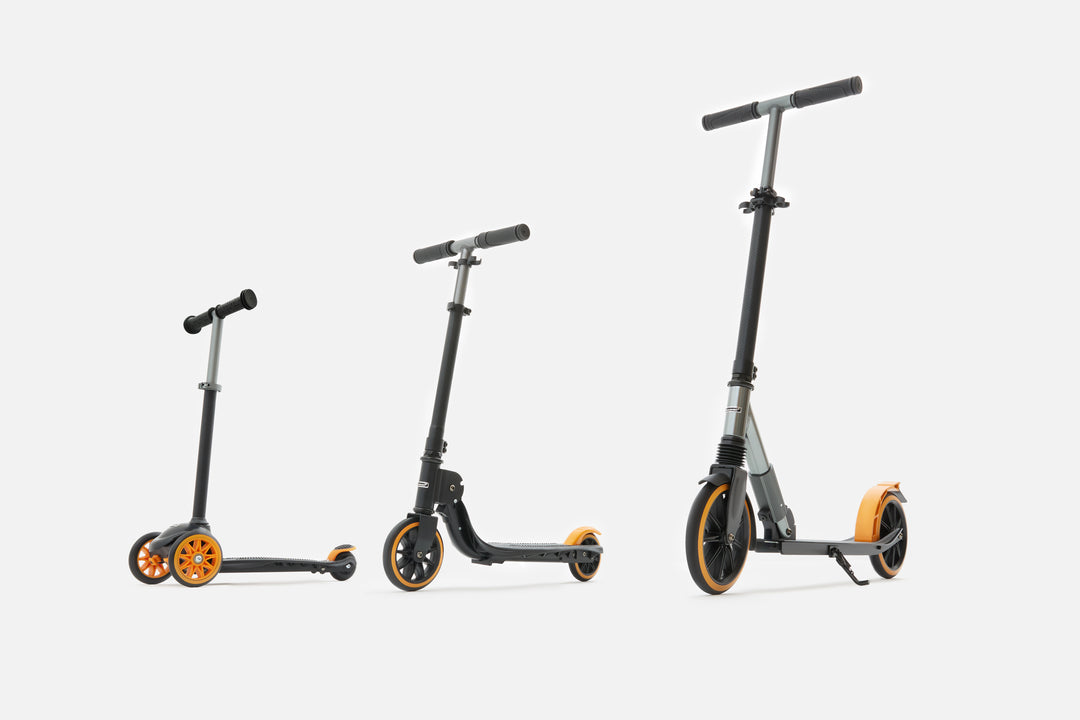 Benefits of Buying the Best Kick Scooter
There are several reasons buying a kids scooter or scooter for adults is a great investment. Here are a few of those reasons listed below.
It gets you and your child OUTDOORS! Fresh air and sunlight are great for everyone. Studies show that some benefits of being outside are lower stress levels, improved mood, and increased vitamin D.

Motor Skills: Kick scooters are great practice for hand-eye coordination, balance, and fine and gross motor skills. These are also all skills needed to ride a bike as well, scooters are great precursors for bikes.

Toddlers aren't always the most coordinated and end up falling easily as they still figure out their center of gravity. A 3-wheeled scooter is great practice for toddlers learning to balance as they ride, maneuver, and steer the scooter.

Great for children and adults that are walking somewhere. Whether it's a child riding over to the neighbors' house or an adult who walks a few blocks to work. It's fun and practical.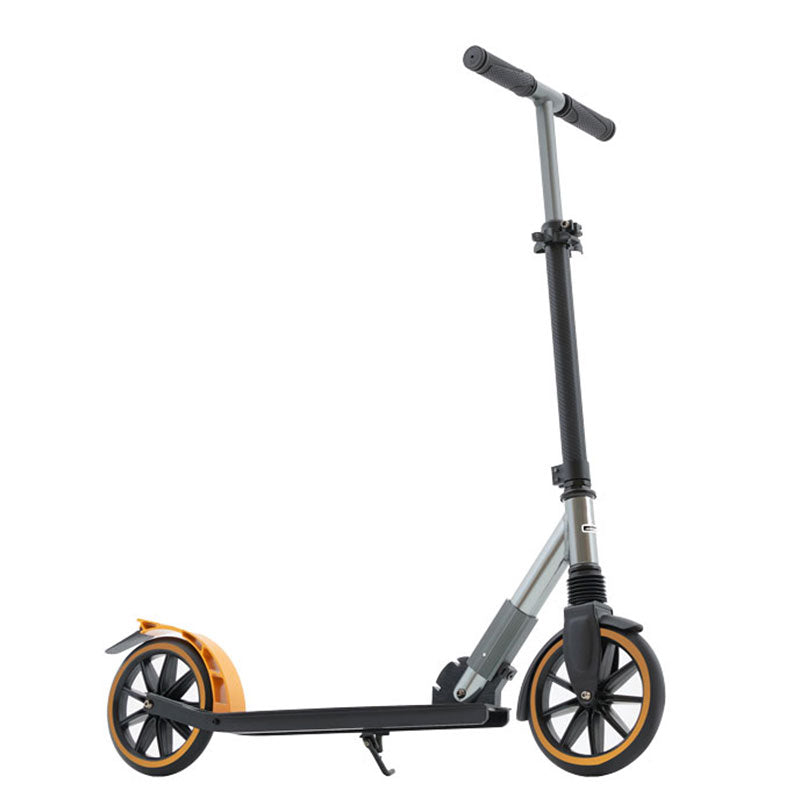 Best Kick Scooter Conclusion
McLaren has the best kick scooter around if you are looking for something that is made to last. When you compare McLaren's products to others, there is no denying the quality and detail.
McLaren Automotive only gives its badge of approval and styling to products that are going to stand out among the rest. The only decision you'll have to make is choosing the McLaren scooter that best fits your child's age, height, weight, and motor skills.
FAQ's about the Best Kick Scooter
"What is the most popular kick scooter?" or "Which is the best kick scooter for kids?"
The best kick scooter is definitely the McLaren brand. These scooters are by far the best quality scooters out there. They are officially licensed by McLaren Automotive which means each of their scooters was intensely engineered to provide a fun and safe product. Plus, they look really cool. There are 3 different types of scooters to choose from ranging from toddler-age to push scooters for adults.
"Are kick scooters good for adults?"
Kick scooters are great for adults that want to ride one for fun or need a practical solution to get around short distances. It is much faster to use a kick scooter to get somewhere than if you were walking. Make sure to choose a scooter for adults that are made for travel like the McLaren McS03.
You'll want a scooter that has a kickstand to park outside buildings if it's used for commuting. The McLaren McS03 is also able to fold up making it easy to carry and compact for storage.
"Which brand of scooter is best?"
The McLaren brand scooter is the best kick scooter because it keeps quality and safety as its priority. There is a 3-wheeled scooter that is great for toddlers that are learning how to balance themselves, as well as 2-wheeled scooters that are perfect for children ages 5 to adults.
"What is the best scooter for a 7-year-old?"
The best kick scooter for a 7-year-old is the McLaren McS02 Scooter. It is designed for children 5 to 8 years old and the weight recommendation goes up to 130 pounds. It is a 2-wheeled scooter that has an adjustable handlebar so your child can use it for many years.
"How do I choose a kids scooter?" and
"How do you size a kick scooter?"
When choosing a scooter you need to consider the child's age, height, weight, and motor skills. To find more information on which McLaren scooter is right for your child, check out this website.
"What is a good scooter for a 9-year-old?"
The best kick scooter for a 9-year-old is the McLaren McS03 scooter. The high-performance wheels are massive and are inspired by the famous McLaren cars.
Y
ou won't ever have to buy another scooter because this 2-wheeled scooter has a max weight recommendation of up to 220 pounds. It was made with performance, durability, and comfort in mind…plus they just look really cool.
"Are kick scooters worth it?"
Absolutely! There are many benefits to kick scooters including getting outdoors, learning how to balance, improving motor skills, and easier commutes!
"How long do kick scooters last?"
McLaren kick scooters are built to last. They are very high quality and the only reason you'd need to get another one is because your child has met the weight recommendation and will need the next size up. However, if your child outgrows one, make sure to pass it down to the younger sibling or friend/family for them to enjoy. These aren't products you'll ever want to throw away.